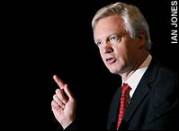 Muslims must start integrating into mainstream British society, says David Davis, the shadow home secretary and front-runner to take over the Conservative leadership.
Writing in The Daily Telegraph today, Mr Davis signalled a significant shift away from the policy of multi-culturalism, which allows people of different faiths and cultures to settle without expecting them to integrate.
"Often, the authorities have seemed more concerned with encouraging distinctive identities rather than promoting the common values of nationhood," Mr Davis writes.
Daily Telegraph, 3 August 2005
See also Guardian, 3 August 2005
For Davis's article, see here.
And over at Jihad Watch, Robert Spencer applauds this example of "common sense from David Davis".