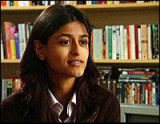 A glamorous young Muslim [sic] woman is the latest Cameron favourite to be parachuted in to keep a close eye on Johnson. Munira Mirza, who argues that racism in the UK is greatly exaggerated, is to serve as a cultural adviser to the mayor.
She is the third member of his new team to have worked for Policy Exchange, the organisation behind many of the policies adopted by Cameron's Conservatives.
Mirza's appointment will also be viewed as an attempt to neutralise any accusations that Johnson is racist, especially as he seeks to slash grants to fringe ethnic groups, many of which received lavish funding from Livingstone.
Mirza believes race relations policies based on multicultural ideas have been divisive.
---
For more on Munira Mirza and Policy Exchange see here. Pointing to Mirza's asssociation with the tendency around Spiked Online and the Institute of Ideas, which was formerly the Revolutionary Communist Party, we wrote that the ideology promoted by the ex-RCP these days "fits in quite well with Tory values". And in another piece we observed that the RCP had "morphed into a bunch of right-wing libertarian individualists whose obvious natural home now is the Tory party". How right we were.
Update:  See also Jenny Bourne's comment piece on the Institute of Race Relations website.