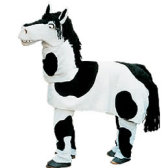 Detectives said on Wednesday that a man wanted for questioning over the murder of a female police officer could have fled the country disguised as a Muslim woman wearing a full veil.
Mustaf Jama, 26, is thought by police to have escaped to his native Somalia at the end of last year after passing through security checks at Heathrow Airport wearing a niqab and using his sister's passport, according to newspaper reports.
Muslim groups accused the media of Islamophobia by raising the controversial subject of the veil without any real evidence.
Asked whether Mustaf Jama had used a full Muslim veil to evade checks, a spokesman for West Yorkshire police said: "It's a possibility. He could have been wearing a pantomime horse outfit as well. But until we get him, we won't know for sure."
---
Which hasn't prevented the Torygraph from commenting that "Jama's story encapsulates virtually everything that is wrongheaded and incompetent in this country's present approach to matters of asylum and cultural diversity…. his escape was made possible by our misguided acceptance of a form of dress that so effectively conceals an individual's identity as to make even his gender unrecognisable".
Editorial in Daily Telegraph, 20 December 2006
Nor has it stopped David Davis, the Tories' shadow home secretary, calling for an "urgent inquiry" into the supposed "security breach". Davis said: "The idea that in any circumstances you could be let through passport control wearing a veil is barely credible. Doing so when an all-persons bulletin for murder has been issued demonstrates that our borders are not just porous – they are non-existent."