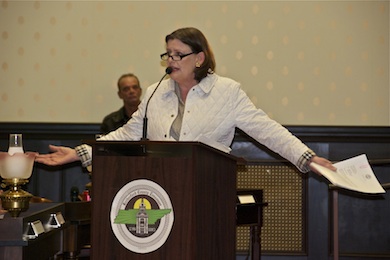 MURFREESBORO, Tenn. — A Rutherford County Chancery Court judge has denied a temporary restraining order request by opponents to halt any consideration of a proposed Islamic Center of Murfreesboro cemetery.
Chancellor Robert Corlew III denied issuing a restraining order Wednesday against the Rutherford County Planning Commission to prevent it from considering a proposed cemetery at the mosque, located on Veals Road in Murfreesboro.
In his ruling, Corlew cited the fact that in November the Tennessee Supreme Court denied an appeal and affirmed an appellate ruling, which overturned his decision, in favor of the Planning Commission on the grounds adequate public notice was given prior to approving construction of the mosque in May 2010.
"While the court understands (their) position, it is the duty of this court to recognize that the (Tennessee) Court of Appeals took jurisdiction over all of these matters," Corlew said, adding a "mandate was issued enforcing the decision of the Court of Appeals."
"This court no longer has jurisdiction to consider pleadings filed by the plaintiffs," he said.
The ruling comes as another blow to Islamic Center opponents who have tried in vain to block the construction of the mosque, which opened in August 2012, for more than three years through numerous lawsuits.
In response to the recent failed attempts at the state level, Islamic Center opponents have announced they plan to take the case to the U.S. Supreme Court, though no formal paperwork has been filed in Washington, D.C.
Less than an hour after the restraining order was denied, the Rutherford County Board of Zoning Appeals deferred making a decision on whether to allow the Islamic Center to have a cemetery on its property.
The board voted 3-2 to defer the matter for at least 30 days and instructed Islamic Center leaders to hire third-party experts to conduct an environmental study and examine how a cemetery would impact traffic in order for the request to be considered again.
The decision came down after more than two hours of discussion that featured a contentious public hearing, which at times resulted in brief shouting matches between Islamic Center opponents and members of the Muslim community.
Among the Islamic Center opponents who spoke during the public hearing included former congressional candidate Lou Ann Zelenik and Pete Doughtie, who is the publisher of The Rutherford Reader.
"I have never seen so many people get away with so much," Zelenik said, adding she believes the local Muslim community has received special treatment out of political correctness gone awry and fear.
Doughtie, who has been considered a longtime foe of the Muslim community, also lashed out Islamic Center members and questioned their motives.
"There is more to this than meets the eye," Doughtie said, adding he agrees with Zelenik wholeheartedly.
There has already been one person buried on the property, which has long riled Islamic Center foes who contend that should never have been allowed.
Islamic Center members were given permission to bury a member on the property through a special-use permit a few years ago. In order to have a fully operating cemetery, however, they are required to go through the rezoning process as part of the new zoning regulations passed last year.
Just prior to the vote, several of the board members said they are concerned about how a cemetery would affect groundwater and the soil because Islamic tradition does not call for a deceased person to be buried in a casket or vault.
The mosque is located in an area of Rutherford County where several residents still rely on well water for personal use.
"I would not want to drink water from a well where there are several bodies buried without being in caskets," said Joe Crowell, who supported the motion to defer alongside Keith Bratcher and Joe Meshotto.
Although practices can vary depending on regional customs, Islamic law calls for the deceased to be wrapped in cloth and placed directly in a grave without a casket. In addition, only a small marker is allowed on top of the grave.
Islamic Center board members said that in addition to practicing traditional customs, they wrap the deceased in plastic bags, put the body on a wooden board that is put into the ground at about 7 feet deep and place another board on top before filling the grave with dirt.
The soonest the cemetery request can be considered again is in January 2014, though it will likely take much longer for the soil and traffic studies to be completed.
Islamic Center leaders, though upset about the decision, said they will abide by the law.
"We will do whatever is required by law, so that we can expand the cemetery," said Saleh Sbenay, an engineering professor at Middle Tennessee State University who is a member of the Islamic Center. "We just want to be able to choose where we are buried. Rutherford County is my home, and I should have the freedom to be buried here."