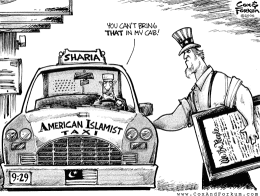 In the US over the past few days a popular anti-Muslim scare story has concerned the alleged refusal of Somali taxi drivers at Minneapolis-St. Paul International Airport to pick up passengers carrying alcohol.
The right-wing blog Power Line opined that "the airport taxi controversy exposes one template for the Islamist imperial project forcing the acceptance of Sharia law by the infidels". And, basing itself on an article in the Minneapolis Star-Tribune, Little Green Footballs announced: "Muslim Brotherhood behind airport taxi controversy."
In response, the Muslim Brotherhood has issued a statement denying that it was in any way involved:
"The Muslim Brotherhood (MB) completely denied any involvement in the current dispute caused by a group of Somali Muslim cab drivers at the Minneapolis-St. Paul International Airport, U.S.A, who are refusing to pick up passengers carrying alcoholic beverages claiming that Islam prohibits them from driving passengers with Alcohol.
"Dr. Mohamed Habib, the first Deputy Chairman of the Muslim Brotherhood, affirmed that Muslim Brotherhood has nothing to do whatsoever with what these Muslim cab drivers believe or view mistakenly as religious decree. Dr. Habib said 'Muslims must respect and comply with the laws and regulations of the countries they live in and be a good example for their fellow citizens'.
"Several organizations and media outlets in the U.S, driven by their own hatred towards the Muslim Brotherhood, have been engaging in a smear campaign and trying disparately to link the Muslim Brotherhood to the current controversy, which the MB has nothing to do with.
"These laughable and despicable reports have capitalized on the controversy they helped to create in the first place and frantically panicked about what they called 'the Muslim Brotherhood project to islamize the U.S by imposing the Sharia Law on Americans', which is utterly ridiculous."