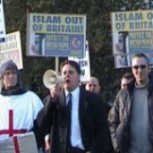 A Muslim elder who stabbed his neighbour in the back was dramatically cleared of murder yesterday after a court was told that he had endured a living hell of racism, threats and violence.
Habib Khan, 50, of Stoke-on-Trent, was found guilty of the manslaughter of Keith Brown, 52, a BNP activist and an alleged friend of the BNP leader, Nick Griffin, who attended his funeral. Khan killed Mr Brown last July after finding him in a struggle with his 24-year-old son, Azir. He said he thought that Mr Brown was going to kill Azir and claimed that Mr Brown fell on to a knife he was holding at his back.
Stafford Crown Court was told that Mr Brown, an unemployed father of seven with a long criminal record, began a frightening campaign of intimidation, violence and racial abuse against the Khan family after objecting to his neighbour building a grand house next to his own modest home. A few months before the stabbing, Mr Brown's son, Ashley Barker, 20, was convicted of assaulting Khan. He hit him repeatedly on the head with a metal object on his wrist.
The court was told that Mr Brown had been jailed in his youth for wounding with intent and that his most recent conviction was in 2000 for assault. Khan, on the other hand, was a pillar of his local mosque.
Prosecuting authorities were accused in court of repeatedly failing to sustain convictions against Mr Brown and Mr Barker, both BNP activists, described by the defence as "the neighbours from hell".
During the construction of Khan's house, Mr Brown and Mr Barker took sledgehammers to the walls. Mr Brown was convicted of criminal damage but appealed. When the prosecution failed to warn any witnesses about the appeal hearing, a judge overturned the conviction.
After the Khan house was built, Mr Brown and Mr Barker kept up with their persecution of the family, once shouting "Paki b******s" at Khan and his wife in their garden and threatening to kill them. The police were called but Khan withdrew his complaint in the hope of seeking mediation.
Next Mr Brown smashed the windows of the Khans' conservatory. Khan complained to the police. Mr Brown and Mr Barker were charged with racially aggravated harassment but the prosecution dropped the case.
After Mr Barker was arrested and bailed for his attack on Khan last year, he returned immediately to Khan's home and threw a stone at the bedroom window. He then shouted: "You are dead." Mr Barker was charged with witness intimidation but that accusation was dropped after he pleaded guilty to assault.