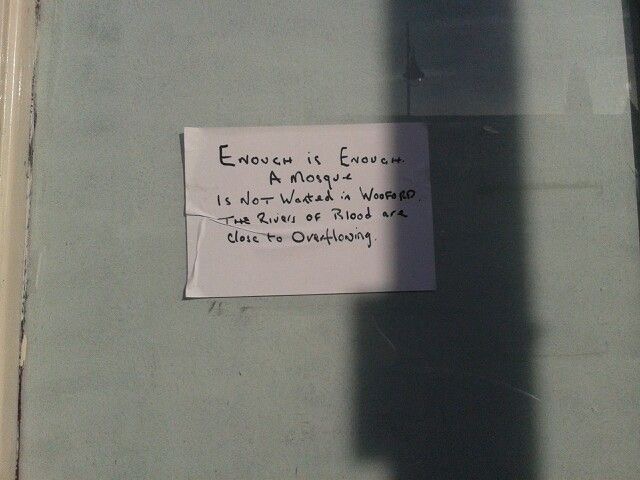 A plan to build a Muslim community centre with prayer facilities has split opinion among residents.
Cllr Robin Turbefield has asked his Bridge ward constituents to offer their opinion on the prospect of the Woodford Green Muslim Community Centre, a charity, replacing the vacant retail unit in Snakes Lane East, Woodford Green.
The planning application shows two prayer or activity rooms side-by-side. The application states on Friday during prayer time the centre can expect to hold 50 to 60 people for around 20 minutes each time.
The Islamic organisation, which submitted the plan, writes on the application its main objective is "to advance the Islamic faith for the benefit of the public".
A website which exclusively reports anti-Muslim attacks, called tellmamauk, posted a photo of a note it claimed to be on the side of the retail unit on Monday. The note read: "Enough is enough. A mosque is not wanted in Woodford. The rivers of blood are close to overflowing."
Speaking to the Recorder, Cllr Turbefield said: "We have had a petition from people in favour [of the planning application] and we have heard from people against it." Cllr Turbefield said the main objection was the site should remain as a retail unit. "It is about losing one retail unit and there are parking issues too," he said.
Natasha Kundi, of the Rodings, in Snakes Lane East, wrote in support of the application on the Redbridge Council website.
She wrote: "I am very happy to hear that there is a plan for a local Muslim community centre. I have been living in the area for a few years and have been suffering due to a lack of Muslim facilities in the local area." Ms Kundi added she believed the centre would help "promote community cohesion".
Carole Kennedy, of West Grove, Woodford Green, lodged her objection to the planning application. She wrote: "This centre seems to me something that would disturb this community rather than enhance it."