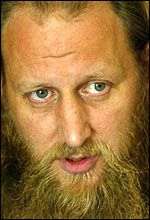 British Muslim, Abdur Raheem Green, has been blocked from coming to Australia. Mr Green attempted to board a plane from Sri Lanka to Wellington on Monday. The plane was due to make a one-hour stop in Brisbane en route. "I was told I could not board because the plane had to stop in Australia," Mr Green told The Australian.
A man described by some Australian media as one of Britain's most radical Muslim converts starts a speaking tour today for New Zealand Islamic Awareness Week. Abdur Raheem Green, who rejects the radical label, had been due to speak at the Auckland University of Technology on Monday but the public lecture was cancelled because he had to change his flight plans when he was refused entry to Brisbane for a one-hour stopover. Mr Green said he was told when checking in at Sri Lanka about three days ago that he could not land in Brisbane but was given no reason by the Australian High Commission.
New Zealand Herald, 9 August 2005
See also ABC News, 11 August 2005
The ban followed a right-wing campaign against Abdur Raheem Green, aimed at depicting him as a violent extremist.