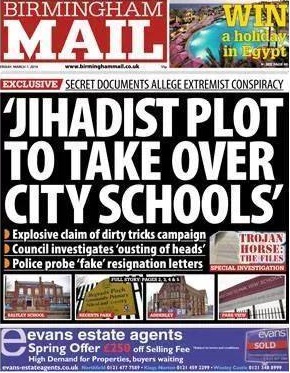 The Muslim Council of Britain has warned education authorities "not to be sidetracked by culture wars initiated by divisive commentators", as it rejected many of the findings of a government-commissioned report that found a co-ordinated effort by extreme Muslims to take over some Birmingham schools.
The MCB said the report, written by Peter Clarke, the former Met counter-terror chief, was guilty of "conflating conservative Muslim practices to a supposed ideology and agenda to Islamise secular schools".
Clarke's report highlighted a pamphlet published by the MCB in 2007 and co-authored by the former chairman of Park View Educational Trust, Tahir Alam, one of the figures most criticised in the recent raft of government reports. The report alleged that the pamphlet set out a blueprint for the takeover of schools by Muslims.
Alam retaliated early on Wednesday by claiming that Clarke had not even visited some of the schools mentioned in his report. In an interview on Radio 4, he said the Clarke report was "commissioned as part of a campaign, really, an offensive against our school, which was politically motivated".
The MCB said the pamphlet was "under routine review" and was always aimed at being advisory in nature, helping schools engage with Muslim parents. It added it was "patently absurd" to suggest the MCB was part of a movement to take over schools or promote a "particular hardline strand of Sunni Islam that raises concerns about their vulnerability to radicalisation in the future".
According to a confidential copy of the contract between Clarke and the Department of Education, the former anti-terror chief was paid a fixed daily rate of £550 to conduct the investigation, amounting to a total of £36,300. The contract leaked to the Guardian showed that Clarke insisted he was indemnified against any legal action against him arising from the report, so long as he was not grossly negligent.
It says the report must be authored by Clarke, "with the draft mutually agreed with the department".
See also "The Muslim Council of Britain responds to Peter Clarke's 'Trojan Horse' letter report", MCB press release, 23 July 2014
Cf. "Gilligan recycles 7-year-old anti-Muslim story as new shock-horror revelation", Islamophobia Watch, 29 April 2014