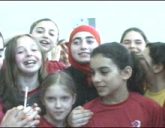 Five young teams from across Canada walked out of a Quebec soccer tournament Sunday because a young Muslim girl was ejected for wearing a hijab.
Calling the rule banning the headscarf worn by Muslim women racist, four other teams followed Asmahan Mansour's team, the Nepean Selects from Ottawa, after she was thrown out for running afoul of a Quebec Soccer Association rule.
"The tremendous support shown for the Muslim player is an indication that common sense and respect for religious differences are more powerful than arbitrary rules," said CAIR-CAN Executive Director Karl Nickner.
CAIR news release, 26 February 2007
See also "Muslims decry soccer referee's call on hijab", Montreal Gazette, 27 February 2007