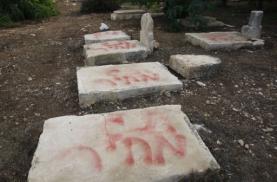 Racist slogans were sprayed over gravestones in an old Muslim cemetery in Jerusalem, site of a dispute between Palestinians and supporters of a museum being built alongside, police said on Thursday.
An AFP photographer, who arrived at the cemetery in the city centre, said he saw graffiti on 15 tombs reading "price tag" and "death to the Arabs."
Police spokeswoman Luba Samri said that "the slogans were painted several weeks ago" and had not yet been erased by municipal authorities.
Hardline Jewish settlers have adopted what they call a "price tag" policy – a euphemism for revenge attacks against Palestinians and their property following Israeli government measures against settlements.
In the Jerusalem cemetery dispute, the Los Angeles-based Simon Wiesenthal Centre, a Jewish human rights group, is building what is termed a "Museum of Tolerance" alongside the disused graveyard.
The project has sparked controversy because it is being built on land belonging to the Ma'man Allah cemetery, commonly called Mamilla, which dates from the 12th century and is the resting place of several Sufi saints.
Descendants of those interred in the west Jerusalem cemetery say it also houses the remains of soldiers and officials of legendary Muslim ruler Saladin.