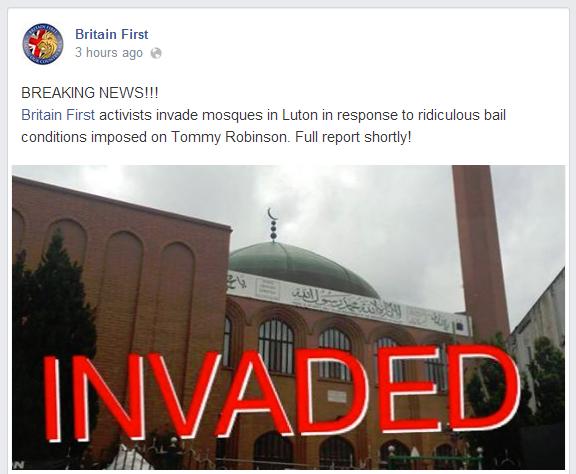 Muslim leaders urged the police to take action yesterday amid a rising tide of fascist "mosque invasions."
Senior members of Luton's Islamic congregation warned that far-right group Britain First's inflammatory tactics were provoking younger Muslims and could end in deaths.
The fascist party posted a video of leader Paul Golding – a former British National Party councillor – and heavies forcing their way into mosques to hand out racist leaflets and Bibles to intimidate worshipers. The video ends with the message: "Are you sick of sitting on your hands and doing nothing?"
Luton Central Mosque president Mohammed Shafait told the Star: "People are fed up. He is going around all over the country abusing people."
"I say he's the one who is a terrorist", argued Mr Shafait in response to the video's description of the 40,000-strong Muslim community as "Luton extremists".
"It's pretty disgusting", said anti-fascist group Hope Not Hate spokesman Simon Cressy, "They are intending to whip up racial and religious hatred."
Britain First's insignia describes the organisation as a "defence force" and includes the Latin motto nihil obstat – nothing stands in the way.
According to Mr Shafait, the police has been called several times but no action was taken. "I don't want anyone to take the law into their own hands," he added in despair. "It doesn't matter who you are – Muslim, Christian, all faiths – stay within the law," urged Mr Shafait. "This guy doesn't — he makes a video then he shows to other party members that he is doing this. He is a terrorist. He's a coward."
Britain First has reportedly only entered one Luton mosque on the day, while posting pictures of other Islamic centres online alongside the video. The mosque invasions are part of a campaign labelled Operation Fightback which also targeted Bradford and Glasgow communities earlier this year.
---
Tell Mama reports that police across the country have refused to take any action against Britain First because they claim no laws have been broken. But it seems quite clear that the fascists' activity amounts to religiously aggravated harassment, which is a criminal offence under the Crime and Disorder Act 1998 (as amended by the Anti-terrorism, Crime and Security Act 2001).
The pretext for the latest in Britain First's series of mosque "invasions" was the conditions reportedly imposed on former English Defence League leader Stephen Lennon ("Tommy Robinson") when he was released from prison last week (see Jamie Bartlett's puff-piece at the Telegraph), namely that no one involved with the EDL can contact him until the end of his original sentence in a year's time. Quite what that has to do with mosques in Luton is anybody's guess.
It's also difficult to see how the terms of his early release raise any great obstacles for Lennon, as he resigned from the EDL last year. They presumably don't prevent him from contacting his PA Hel Gower, head of "Team Tommy", who recently left the EDL herself (providing some helpful insights into the antisemitism and homophobia that remain endemic to the organisation, all its denials to the contrary).