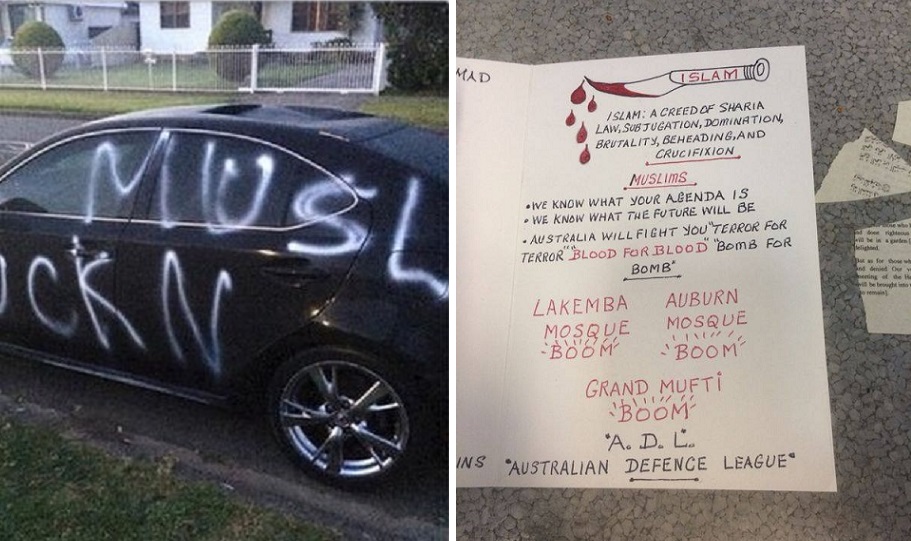 Mounting incidents of anti-Muslim violence in Sydney will ignite a Cronulla-style riot if authorities don't step in to quell tensions, Muslim leaders have warned. Community members have begun keeping logs of Islamophobic incidents and say some people are resorting to vigilante-style justice in the wake of counter-terrorism raids in Sydney and the fatal shooting of a terror suspect in Melbourne.
On Friday, police released CCTV footage of a man who they believe stormed into an Islamic school in Sydney's south-west and threatened children with a knife the length of his forearm. Parents at Al-Faisal College in Minto said police swarmed to the school on Thursday afternoon after the man walked in, waving the knife around and asking if it was a Muslim school.
The incident came as police dropped their investigation into a separate assault claim by an Australian Defence Force member. The 41-year-old naval officer claimed on Thursday he had been assaulted by two Middle Eastern men outside his Bella Vista home at 6.30am but police deemed the report to be false. Defence force chief Air Chief Marshal Mark Binskin issued an apology for the incident, particularly to the Middle Eastern community, for "any angst this has caused".
Mariam Veiszadeh, who has launched Islamophobia Register Australia, said there had been a "surge in Islamophobic incidents" in Sydney. She said she has been urging police to act on the incidents before one erupts into large-scale violence. Community activist Rebecca Kay has also been keeping a log of violence such as cars being vandalised and people being abused in the street.
Ahmed Kilani, editor of the Muslim Village website, said community leaders met with state and federal police on Wednesday to warn them the atmosphere in Sydney was reaching boiling point. He said many people in the Muslim community were adopting a vigilante-style response. "The temperature is rising very quickly," Mr Kilani said. "The fear is that something could very easily ignite an event like the Cronulla riots."
Tensions are also rising in other states following counter-terrorism raids in Brisbane and the shooting of 18-year-old Numan Haider by police in Melbourne. In Brisbane, a man was charged on Friday after telling a Muslim woman to "go back to your country" and an Islamic centre was allegedly sprayed with menacing graffiti.
Sydney Morning Herald, 26 September 2014
See also "Refugees threatened at Syd soccer training", The Australian, 26 September 2014
And "Anti-Islamic teens threaten to behead Gold Coast man they mistook for a Muslim", myGC, 26 September 2014