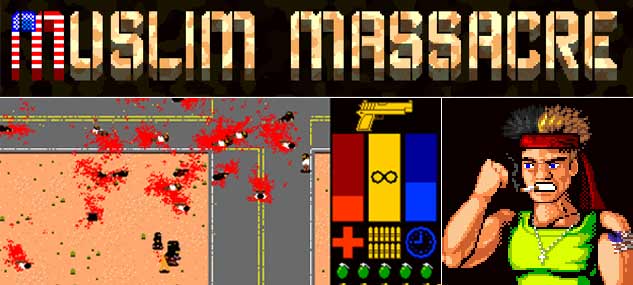 A computer game in which players control an American soldier sent to "wipe out the Muslim race" has been condemned as offensive and tasteless by a British Muslim group. The goal of Muslim Massacre, which can be downloaded for free on the internet, is to "ensure that no Muslim man or woman is left alive", according to the game's creator.
Players control an "American Hero" armed with a machine gun and rocket launcher who is parachuted into the Middle East. Users progress through levels, first killing Arabs that appear on screen and later taking on Osama bin Laden, Mohammed and finally Allah.
The game's creator, a freelance programmer known as Sigvatr, described the game on the SomethingAwful.com website as "fun and funny". In a "How you can help" section, he writes to visitors: "Don't whinge about how offensive and 'edgy' this is."
British Muslim youth organisation The Ramadhan Foundation expressed its "deep condemnation and anger" at the game. The group said: "This game is glorifying the killing of Muslims in the Middle East and we urge ISP providers to take action to remove this site from their services as it incites violence towards Muslims and is trying to justify the killing of innocent Muslims.
"We have written to the British Government to urge an inquiry into this game and take action to shut down the site. This is not satire but a deliberate attempt to demonise Muslims."
Independent, 11 September 2008
Update: See also "'Muslim Massacre' computer game blasted in Britain", AFP, 12 September 2008