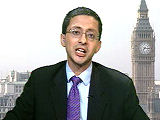 In a letter in today's Independent, Inayat Bunglawala of the Muslim Council of Britain replies to Yasmin Alibhai-Brown's article in yesterday's paper:
"Yasmin Alibhai-Brown casually misrepresents the position of the Muslim Council of Britain, accusing us of declining to 'mourn victims of one of the deadliest mass exterminations in human history' (23 January). The MCB fully accepts and recognises the monstrous horror and cruelty that underpinned the Nazi holocaust.
"The reason the MCB has called for a more inclusive 'Genocide Memorial Day' is because across the globe – not just among Muslims – there is a widespread view that we in the west practise double standards and devalue the lives of non-westerners. In the MCB's view, the subtext of the Holocaust Memorial Day would thus be better served and help make the cry 'Never Again' real for all people who suffer, even now.
"In the last decade we have seen genocide take place in both Rwanda (one million killed in 1994 in the space of a few weeks) and Chechnya (10 per cent of its population has been killed since the Russians launched their invasion of the tiny republic.) We need to do more than just reflect on the past. We must be able to recognise when similar abuses occur in our own time."