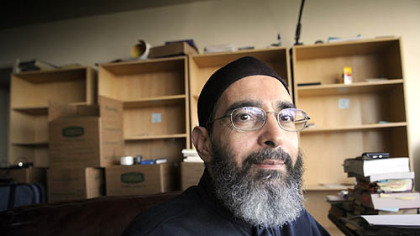 Making good on his promise to leave his adopted country after 28 years rather than stay and feel like a second-class citizen, Abdul Moniem El-Ganayni and his wife caught a flight out of Pittsburgh on Wednesday en route to Cairo.
Preceding them were all their belongings, including a treasure trove of books that the scientist, Muslim cleric and Islamic scholar has collected over the years. Left behind were a vacated apartment overlooking Highland Park, his wife's large Italian family, scores of friends and supporters and a legal fight on its way to appeal.
The Egyptian-born physicist, a U.S. citizen since 1988, lost his security clearance late last year, along with his job at the Bettis nuclear propulsion lab in West Mifflin, where he'd worked since 1990.
The clearance was revoked by order of Jeffrey Kupfer, acting deputy energy secretary. He said he had "reliable information" that Dr. El-Ganayni was a security risk but refused to let him see any evidence or defend himself.
The scientist filed a federal lawsuit seeking an independent review, charging retaliation for statements he made opposing the war in Iraq and the Bush administration's post-9/11 treatment of Muslims. He said the government invoked national security as a smokescreen to hide its lack of evidence.
On Tuesday, the last remaining count of his lawsuit was dismissed by U.S. District Judge Terrence McVerry, who had already ruled that the court lacked jurisdiction on two other counts. His lawyers say they will appeal to the 3rd U.S. Circuit Court of Appeals in their client's absence.
So instead of enjoying a Thanksgiving turkey as he has each year since arriving in the United States, Dr. El-Ganayni spent yesterday reuniting with Egyptian relatives he hasn't seen in a quarter-century.
He has all but confirmed a new job as a full professor of physics at a university not far from his ancestral home, with a good salary, housing allowance and benefits. But if he should prevail in his legal case somewhere down the line, he said he will come back to Pittsburgh to claim the rights he thought he was entitled to as a U.S. citizen.
"I will miss it here," Dr. El-Ganayni said in an interview with the Pittsburgh Post-Gazette the day before he left. And while his fight will continue, he seemed at peace with his decision and ready to begin a new chapter.
"I lived in Pittsburgh longer than anywhere else in my life. I will miss so many family, friends and neighbors of all religions and walks of life who supported me and showed a lot of emotion for my situation."
Even so, he said, "I feel free for the first time in a long time.
"Everyone who knows me knows I am a very outspoken person, but I always watched what I said because I didn't want to lose my security clearance. I criticized the government for a war based on deception … but many Americans were saying the same thing or worse. Yet they retaliated against me.
"So even though I have gained my freedom, I feel very sad that the American people have lost a good bit of their Constitution. John Adams said that once you lose your rights and liberties, it's very hard to get them back."
Dr. El-Ganayni, 57, was a respected member of the Muslim community, a founder of the Islamic Center of Pittsburgh who gave charity freely and moonlighted as a prison chaplain. In 2007, he got into a dispute with prison authorities over Ramadan observance, visiting policies and a book about ants that he distributed to Muslim inmates at the State Correctional Institution Forest in Marienville, Forest County.
Soon investigators from the FBI and the Department of Energy were questioning him about his beliefs, prayers and a speech he gave opposing FBI recruitment efforts at mosques.
There is no constitutional right to a security clearance, but Dr. El-Ganayni contends that he should have been allowed to refute the charges as provided by government regulations.
As recently as last week, he learned that the FBI was still looking for evidence against him, even though it knew he was leaving the country. Another Muslim physicist in Boston, who worked in Pittsburgh for several years but barely knew Dr. El-Ganayni, sent word that agents had come to his door asking questions about him.
"If they had so much proof that I was a security risk, enough to take away my clearance and my job and never tell me why, then why are they still trying to dig up dirt as I am leaving the country?" Dr. El-Ganayni said.
He said that because the country's national security apparatus is "run by bureaucrats who resist any change that diminishes their power," he doesn't have high hopes for justice. However, he said Barack Obama's election could bode well. "If there is any hope that America would get out of the crisis, he will be the one to do it. Maybe some erosions will be reversed."
Vic Walczak, legal director of the ACLU of Pennsylvania and one of Dr. El-Ganayni's lawyers, said the appeal will probably take 18 months to two years. The other possibility is that once Mr. Obama becomes president, the new administration might reconsider the issue. "If you look at what we're asking for, which is a hearing, a new secretary of energy could do that without much harm politically," Mr. Walczak said.
Meanwhile, he vowed the fight will continue. "The secretary of energy is using national security to jettison all due process, not just a hearing but any explanation of why this occurred," Mr. Walczak said. "If this pattern is allowed to stand, it completely shields the government decision-making process. That's really dangerous for democracy."