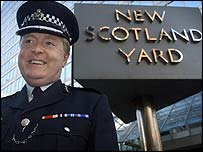 Met Police Commissioner Sir Ian Blair has defended the decision to invite a controversial Muslim scholar to speak at a police-sponsored conference.
Tariq Ramadan's US visa was revoked in 2004 for "security reasons". Mr Ramadan has been accused of supporting attacks in Israel and Iraq. He publicly condemned the 11 September and London attacks.
Sir Ian said his was an important voice that would be listened to by young radicalised Muslims. He said Mr Ramadan, who was also previously banned in France, had been visiting the UK for five years. "We can't understand why he's banned in the US, (and) he is no longer banned in France," Sir Ian said.