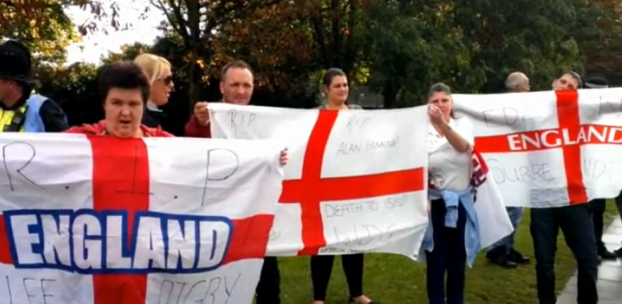 Protesters angry at a planned Muslim school marched through Portsmouth this afternoon.
Around 20 people including members of the English Defence League (EDL) gathered at Lake Road, where the Madani Academy is to be based.
Shortly after midday they set off to march through Fratton Road, Victoria Road South and Albert Road, returning to Lake Road before the march finishes at Guildhall Square.
There was a big police presence in the area as the march began, with around 30 counter-protesters also present at Lake Road.
Some of the marchers wore balaclavas and several were carrying English flags, some with messages such as EDL: NO Surrender written on them.
One of the marchers, Dwayne O'Neale (29), who was he was a member of a group called the Waterlooville Defence League, said: "Everybody is branding us as racists but we are not racists. We are angry that our laws are being changed and that people from our country are fighting against us.
"We are not against a Muslim school being opened – we are against not being given a choice. It's a Muslim-only school and we are not being given a choice about whether our children go there."
Lawrence Collemy, who is 36 and from Buckland, said: "We have got a Muslim school that is Muslim only. The fact of the matter if others use mainstream schools, why can't they? Why is their education different? I know some people might see this as an extreme view but it is not. With everything going on in Syria, and all the stuff with Isis, it is just a concern because it is a Muslim school.
"If you are a Christian, you would not qualify to go there. This is not about race. There is just a lot stuff going on in Portsmouth today which I think there is a real concern about. It is my first time on a march. I was one of four people who coorganised it. This is segregating people but we should be integrated. If there were proposals to put up white only, Christian schools, there would be uproar."
Portsmouth News, 11 October 2014
---
So according to Dwayne O'Neale (aka Dwayne Dibbers), he and his friends are "not against a Muslim school being opened". Yet only a couple of days ago, in a Facebook post appealing for support for the march, he stated that the purpose of today's protest was "to stop moscs Islamic schools n there law". As for the claim that the protestors are merely opposed to religious segregation in education, why aren't they demonstrating against other faith schools in Portsmouth?
Here, for example, is the admissions policy followed by the city's four Roman Catholic primary schools. As can be seen, it discriminates in favour of the children of practising Catholics, based on the regularity of their parents' attendance at mass. Children of parents who belong to non-Christian faith traditions or are non-believers are highly unlikely to get in. Not much religious integration there, you might think.
But for some reason O'Neale, Collemy and their friends aren't organising protests outside Portsmouth's Roman Catholic schools.
Then again, what else would we expect from an individual like Dwayne O'Neale, whose Facebook cover photo proudly proclaims his support for the far-right Britain First group?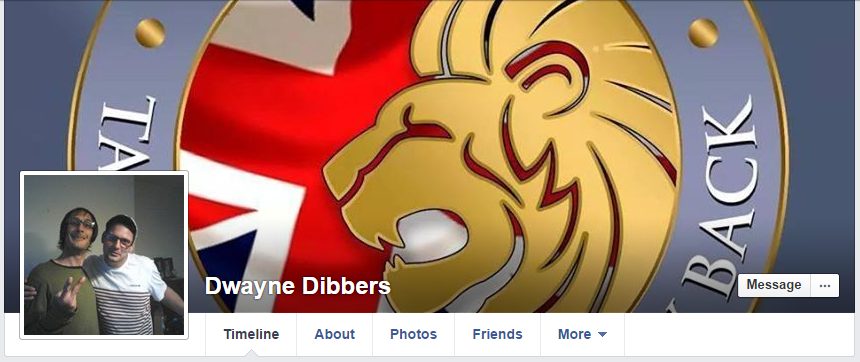 See also "Counter demonstrators confront Muslim school protesters", Portsmouth News, 11 October 2014
Update:  Here is a report from the anti-racist counter-demonstration. Simon Magorian writes:
"Maximum respect for all those who came out today to oppose the Fascists of the EDL in Portsmouth. We only had about 48 hours notice and managed to outnumber them. They managed to mobilise about 45+ we managed around 100. We had banners from Portsmouth Trades Council, NAS/UWT, Portsmouth Unison and Unite Community. Significantly they were not allowed to march down Albert Road which is Portsmouth's Brick Lane. In Guildhall Square we outnumbered and outshouted them, and they scuttled away after throwing coins and spitting. Portsmouth can feel proud of itself."
Photos of the two demonstrations here.
Update 2:  See "Anti-Muslim protesters told they have no place in Portsmouth", Portsmouth News, 13 October 2014