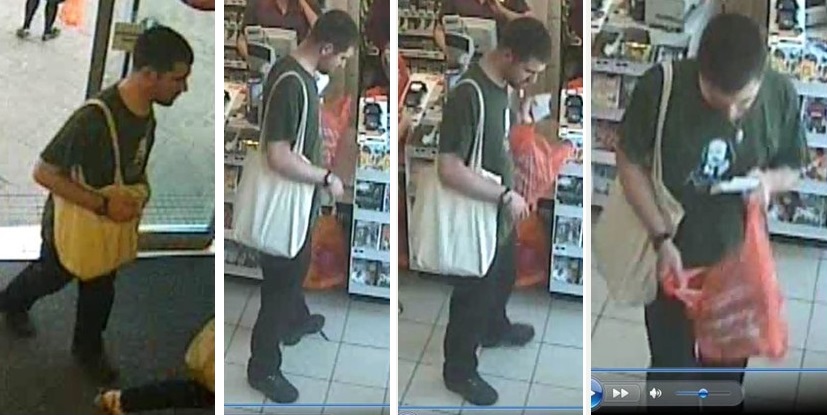 Police want to trace this man in connection with a spitting incident in which a Muslim woman was left shocked and in tears.
Hasina Khan, who was born in Bristol, was on her way to work when she was attacked by a man in Cabot Circus at about 9am on Monday, July 21. Saliva ended up on her hijab and her left hand. She was also subjected to verbal abuse.
Investigating officer PC Hannah King said: "We are issuing several images of a man we want to speak to about this incident, which we are treating as a hate crime. The victim was left shaken and distressed by the ordeal and we hope by releasing these images, someone will come forward with information which will help us identify who this man is."
If you can help, please call PC King via the 24-hour Police Enquiry Centre on 101 and quote reference 74214/14.
Hasina, who lives in Horfield, said she had suffered incidents of racism many times but nothing could have prepared her for this.
She told the Bristol Post after the incident: "A man came charging towards me with such aggression I thought he was going to punch me in the face. He was ranting and he spat in my face. I felt it fall onto my left hand.
"I was in shock at what was happening. I asked him what his problem was, but he continued to rant and said something along the lines of 'your people are killing' and something about 'Middle East' and 'killing Christians'. He spat at me again. It was terrifying. I thought he was going to attack me at any second.
"Then my defence mechanism just kicked in and I started to shout at him. What a coward – he then started to back away. He tried to say something else, but I continued to shout at him until he left Cabot Circus. I've read so many reports that hate crime towards Muslim women is increasing in the UK, but nothing really prepares you for what to do if it happens and how humiliating, terrifying and dirty it makes you feel.
"I hope he is caught so he cannot terrorise and traumatise other women."