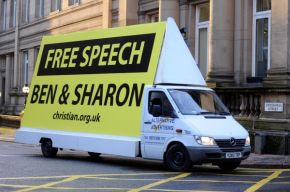 A Muslim woman was asked by a Christian hotelier if she was a terrorist and a murderer because she was wearing Islamic dress, a court has been told.
Ericka Tazi told Liverpool magistrates she faced a tirade of abuse from Benjamin Vogelenzang and his wife Sharon, at their hotel on Merseyside. She said it was because she was wearing a hijab head covering and gown.
Mr and Mrs Vogelenzang deny using threatening, abusive or insulting words which were religiously aggravated. Members of campaign group The Christian Institute demonstrated in support of the couple outside the court.
Mrs Tazi, who converted to Islam 18 months ago, spent a month at The Bounty House Hotel on Church Avenue, Aintree, Liverpool, while attending a course at Aintree Hospital. Prosecutor Anya Horwood told the court Mr Vogelenzang, 53, called the prophet Mohammed a "warlord" and likened him to Saddam Hussein and Hitler. And his 54-year-old wife told Mrs Tazi her Islamic dress represented "oppression" and was a form of "bondage", the court heard.
Mrs Tazi had worn European dress during her four-week stay, but the row flared after she came down on her last day in traditional Islamic dress. She said Mr Vogelenzang asked her "Why are you wearing those clothes?" and began laughing at her, the prosecutor told the court.
Ms Horwood said the hotelier then began to discuss his Christian faith but became angry – at which point his wife joined in. Mrs Tazi walked away but was followed by Mr Vogelenzang, who was acting like "a whirling dervish", repeatedly asking her if she was a "terrorist".
Giving evidence, Mrs Tazi told the bench that dressing in her hijab seemed to "trigger something" in the hotelier. The 60-year-old, who suffers from fibromyalgia and lives with chronic pain, said: "He just couldn't accept the way I was dressed. He asked me if I was a murderer, if I was a terrorist. I'm a 60-year-old disabled woman, I couldn't understand where it was coming from, it was shocking to me."
Mrs Tazi said Mr Vogelenzang followed her into the dining room "flailing" his arms and "jumping up and down". She added: "Sharon came running in, she was shouting 'you started this with your dress' and she was pointing in my face and I was frightened at this stage. I was absolutely traumatised by it all."
Guests at the hotel told the court that Mrs Tazi was left distraught by the row. Pauline Tait, 52, a committed Christian, described it as "a very upsetting and volatile exchange". Another guest, Shirley Tait, said she was in her bedroom when she heard Mr Vogelenzang shouting the words "Nazi" and "warlord".
Cf. Christian Institute, 8 December 2009, Daily Mail, 21 September 2009 and BNP news report, 20 September 2009