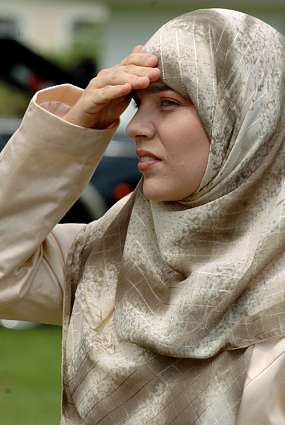 An Orlando Muslim woman is suing a Florida real estate company for religious discrimination after being told she could not wear a head scarf and long sleeves at work.
Danine Hammond, 27, said the office manager of Chapel Trace Apartments in east Orange County told her she couldn't wear her hijab, a head scarf donned by some Muslim women.
Hammond is suing the Miami-based Housing Trust Management Co., which owns the complex, under Florida's Civil Rights Act and requesting that the company compensate her for lost pay and benefits, punitive and compensatory damages, and legal fees, according to the lawsuit.
"I feel I have the right to work here in the U.S., and I shouldn't have to compromise my religion," Hammond said during a news conference Wednesday at the entrance to the complex, where she lives.
Orlando Sentinel, 23 June 2005
---
Robert Spencer offers this as an example of the "clash of civilizations".
Over at Militant Islam Monitor, they're convinced that it's another CAIR-inspired plot to destroy western society.