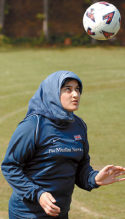 A national five-a-side Muslim women's football team is fighting for the right to play in their religious headscarf. Team captain and chairwoman of the Muslim Women's Sport Foundation Rimla Akhtar is leading the campaign.
Under rules of the International Football Association Board, scarves such as the hijab cannot officially be worn. Individual referees can decide whether to let women flout the regulations or send them off. Miss Akhtar, from north London, said the attitude towards the hijab was causing resentment and is demanding legislation be altered to allow it.
The IFAB is yet to make an official decision but Miss Akhtar said that if football bosses continued to drag their feet, sides such as Iran could lose their best players. "I wear the hijab and it is kept on very securely, so it is not a safety problem", she said. "There is as much chance of a player pulling on your shirt as there is of them pulling on your hijab."
IFAB guidelines state a player must not "use equipment or wear anything that is dangerous to himself/herself or another player".
Liverpool supporter Miss Akhtar, who was the only Muslim girl in her school team, belongs to the British Muslim Women's Futsal Team. Futsal is a form of football first developed from street football in South America.
Miss Akhtar said five years since Bend It Like Beckham was released, in which a young Sikh player fights against prejudice, discrimination has not been stamped out. "We should be clear that wearing the hijab is not an issue."
Evening Standard, 31 May 2007