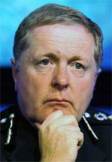 Muslims are not doing enough to help police crack terrorist plots, says Britain's top policeman. Sir Ian Blair, the Metropolitan Police Force Commissioner, says Muslims initially went into denial over the problem of terrorism. He believes that encouraging greater co-operation will be a "slow" and "delicate" process.
Sir Ian was speaking during a visit in Berlin, where he delivered a speech calling for an extension to the 28-day limit for the detention without charge of terrorist suspects. In an interview with the German newspaper Der Tagesspiegel, Sir Ian was asked how much help Muslims were giving to police anti-terrorist investigations. He replied: "We're getting more, but we're not getting enough."
In his speech, Sir Ian pointed to opinion polls suggesting that between 40,000 and 120,000 Muslims in Britain believed that last year's July 7 London bombings, in which 52 innocent people died, were justified.
A spokesman for the Muslim Council of Britain said: "All Britons, regardless of their faith background, must fully co-operate with the police in protecting the safety and security of our nation. Our understanding is that the police have been receiving an increasing amount of help from British Muslims in this regard."