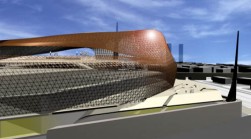 "More than 2,500 Muslims have signed a petition opposing plans to build Europe's biggest mosque next to London's 2012 Olympic Park. The petition, organised by worshippers in the borough of Newham, has drawn the signatures in 10 days.
"The mosque scheme includes an Islamic garden, school and prayer space for 70,000. It has been criticised by the Muslim community who fear the involvement of Tablighi Jamaat, an ultraorthodox sect, behind the proposal. Moderate Muslims say allowing the sect to build the complex will stoke community tensions. The petition warns the mosque could provide a recruiting ground for terrorists.
"The sect preaches a strict interpretation of Islam which has been adopted by extremists and terrorists. Asif Shakoor, chairman of the Sunni Friends of Newham, said they wanted all Muslim groups to be equally represented at the proposed place of worship."
See also the Times, 27 November 2006
---
It's not the business of this site to intervene in disputes within the Muslim communities. However, in the current circumstances, if anyone has indeed circulated a petition suggesting that the proposed Abbey Mills Islamic centre could provide a recruiting ground for terrorists, the irresponsibility of that action beggars belief. We also wonder whether the Asif Shakoor who appears to be behind this campaign has any connection with Minhaj-ul-Quran International, an organisation which is linked to a political party called Pakistan Awami Tehrik and is an organisational and ideological opponent of Tablighi Jamaat.