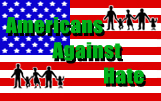 Thousands of Muslims from across the New York region marched down Madison Avenue in Manhattan Sunday, waving flags and flashing peace signs to protesters.
The 22nd annual United American Muslim Day parade was a peaceful affair on a warm, bright day that drew hundreds of beaming children. Though few people gathered on the sidewalk to watch the parade, the street was filled with proud participants. A small but vocal contingent of hecklers taunted marchers at 41st Street, though police officers kept both groups apart.
A well-dressed elderly woman walking up Madison Avenue told a friend on a cell phone: "I'm the only one in the street without a schmata on my head," using the Yiddish word for rag. A passerby who heard the remark muttered under his breath that she was also the only one with dyed hair.
Rita Thompson, 44, traveled with her boyfriend from their home in Redington Beach, Fla., to protest the parade. Thompson later shouted expletives at marchers and said, "They're all going to be bin Ladens." "I'm so appalled by this, two days before the anniversary of 9/11," she said later in an interview, adding that she called City Hall earlier in the week to urge Mayor Michael Bloomberg to cancel the event.
---
The organiser of the protest was Joe Kaufman of the laughably named group Americans Against Hate, who denounced the parade as "a pre-9/11 celebration" that posed "a threat to New York and a threat to national security", and called for it to be banned.
This hysterical campaign was rejected by mayor Bloomberg who insisted that Muslims are a "vital part of our city" and that it would be "a terrible mistake for anyone to implicate a whole group of innocent individuals – no matter what their faith – with the terrible acts committed on September 11, 2001".
See also Front Page Magazine, 17 August 2007