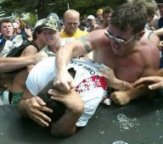 Many young Muslim Australians are still too terrified to return to Cronulla, almost one year on from the riots, a spokesman said yesterday.
Independent Centre for Research Australia president Fadi Rahman said: "When we speak with them behind closed doors they're quite afraid to go to Cronulla on their own. They believe that what has happened should have taught everyone a good lesson but they honestly believe it has not changed anything and that there are still racist elements in the community. They are scared that [tensions] will escalate again."
It is almost a year since rioters invaded train carriages to set upon youths of Middle Eastern appearance. Yesterday trains to Cronulla were again the scene of commotion – this time in the name of peace. Youth workers from western and southern suburbs chartered the "peace train" to take hundreds of young people from Bankstown to Cronulla. Line dancers, African drummers and indigenous performers snaked through the carriages to promote cultural diversity. A parade and music workshops were held at Dunningham Park beside Cronulla beach.