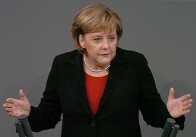 BERLIN — German Muslims have hit out at Chancellor Angela Merkel for suggesting that mosque minarets should not be higher than church steeples, saying her provocative remarks were politically motivated.
"We must be on guard against sparking artificial discussions for political purposes which have little connection with reality," Bekir Alboga, spokesman for the Coordination Council of Muslims, an umbrella organization for Muslims in Germany, said.
Merkel, a Lutheran pastor's daughter, told a congress of her conservative Christian Democrats that "we must take care that mosque cupolas are not built demonstratively higher than church steeples".
Merkel's fellow conservatives in Bavaria have been saying for months that minarets should not dwarf steeples. Local residents are up in arms about plans to build mosques in Berlin, Munich and Cologne. Christians in Cologne do not want the city's skyline – now dominated by one of the world's largest cathedrals – to be altered by two tall minarets.
Islamophobic remarks have gained momentum after Merkel's conservative party came to power in November 2005. In statements endorsed by Merkel's party last June, Germany's top cardinal warned against "uncritical tolerance" which could lead to Islam enjoying equal standing with Christianity in the country.