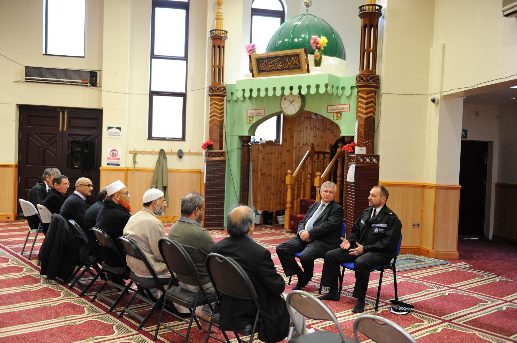 Muslim communities across Newport are being urged to report hate crimes, with a focus on incidents targeting religion and faith.
Gwent's Deputy Police and Crime Commissioner Paul Harris and Gwent Police Superintendent Mark Warrender met Muslim community leaders yesterday during hate crime awareness week.
A recent hate crime survey in Wales found 15 per cent of religious hate victims had attempted to conceal their religion to reduce the risk of victimisation.
And Superintendent Warrender, the force's lead officer for hate crime, said of 250 hate crime incidents reported in Gwent every year, just a handful are linked to religion and faith. "The numbers don't reflect what is going on. We are trying to get more people to come forward and there are lots of different reasons why they don't," he said.
"Victims can think the things happening to them do not seem that important and the police have better things to do. Some don't think the police will do anything, or they are scared to report it. But crimes like these can have a disproportionate effect on victims, and Gwent Police absolutely will not tolerate hate crime."
Police and Muslim community leaders met at Jamia Mosque in Pill, Newport's largest, and a previous target of hate crime incidents.
"We have had a few incidents at the mosque and the police have caught some of those responsible," said committee member Mr Abdul Rahman Mujahid. "Gwent Police have also personally addressed people at our mosque, encouraging them to report these crimes.
"During Friday prayers last week, our Imam reinforced the message to everyone that if they are a victim of a hate crime they must contact the police so they can get the help that they need."
Mr Harris said: "Whether it's hate crime to do with race, religion, disability, sexual orientation, gender or age – it's important that people report these incidents so they can be dealt with properly."