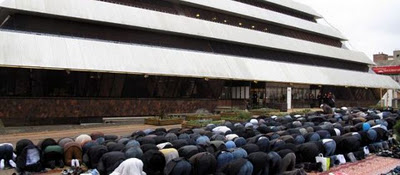 On Thursday 9 December around 350 Muslims prayed in the street in front of the City Hall in Nanterre (Hauts-de-Seine) to ask the mayor to legalise a place of worship that has been temporarily established near the towers of the La Défense business district.
A big tent that serves as a mosque was set up in early October by the mayor of the neighbouring town of Puteaux, on land he owns but which is located within the territory of Nanterre. "We need a building permit to be granted in order to legalise the erection of the tent and obtain heating. But Patrick Jarry [the Gauche Citoyenne mayor of Nanterre] has refused to do this," said Hassan Ben M'Barek, head of the Front des Banlieues Indépendant (FBI), explaining the origin of the street prayers.
"We are asking Mr Jarry to show some humanity and common sense instead of keeping us in the cold. And that he stops holding us hostage to political quarrels with the UMP mayor of Puteaux" (Joëlle Ceccaldi-Reynaud), stated Abdellah Mouhine, spokesperson for the Association Solidarité Islamique of Puteaux.
According to an associate of Patrick Jarry, "it is the prefect of Hauts-de-Seine and not the mayor of Nanterre who has to grant planning permission". "Patrick Jarry can only offer a consultative opinion", he added. And this opinion has been shown to be unfavourable, with the mayor of Nanterre taking the view that the building permit the mayor of Puteaux asked for did not conform to the Local Urban Plan (PLU), in particular over the issues of parking and the appearance of the place of worship.
Via Islam in Europe
Patrick Jarry was formerly a member of the French Communist Party (PCF). He resigned in 2010 to become a leader of a new left-wing organisation, Gauche Citoyenne.