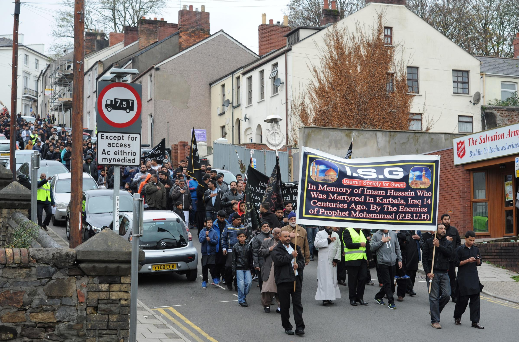 Members of far-right party the National Front tried to disrupt a peaceful march of more than 500 Muslims from across Wales in Newport today.
The annual march, organised by the Islamic Society of Wales, commemorates the anniversary of Prophet Mohammad's grandson, Imam Hussain, who was martyred more than 1,300 years ago.
The 32nd march to be held in Newport should have taken place last Sunday – the 10th day in the Muslim calendar – but was put back so the city's Muslims could join in the Remembrance Sunday services.
But yesterday afternoon police stepped in when anti-Muslim protestors attempted to disrupt the peaceful march. As the hundreds of men, women and children walked along Commercial Street, two men carrying National Front flags attempted to enter the crowd from a side street.
They were joined by six more protestors who held up British and Welsh flags and shouted abuse including, "These are our streets" and "Muslims, burn in hell".
Officers from Gwent Police and private security firms formed a barrier around the men. Two of the men were later seen in the Red Lion pub on Stow Hill, shouting abuse from inside while police blocked the entrance.
The commemorative march left the mosque on Hill Street at just after 2pm before walking along Hill Street, Commercial Street, up Stow Hill before ending in Victoria Place.
The sombre event is one of hundreds held across the world in memory of the Prophet's grandson who died along with 72 family members at the hands of the tyrant Yazid. Newport was the first city in Europe to hold the commemorative march.
Mubarak Ali, one of the organisers and secretary of the Islamic Society of Wales, said: "We want to make it clear that we have got nothing to do with ISIS, we are peaceful, law-abiding people, we respect Queen and country.
"The National Front did their best to cause trouble, they tried to spark things off but it wasn't working. Our members totally ignored it, they were chanting louder."
Mohammad Saqlain, one of the marchers, said of the incident: "I found it very distressing. I have been here two or three times before and it's never happened before but I'm very aware that because of the lack of knowledge they automatically think we are terrorists."
Gwent police said there were no arrests following the incident.
South Wales Argus, 16 November 2014
---
South Wales NF called for a protest against the Ashura procession on the grounds that it was a "march of hate" and "a flexing of muscle and a show of nothing more than invasion".