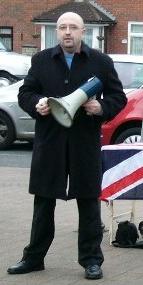 A man set up a stall in a busy South Oxhey shopping parade, shouted that all Muslims were terrorists and called for their execution, a court has heard. Kevin Quinn is alleged to have taken to the streets and used a megaphone to shout racist abuse in an attempt to deliberately stir up race hatred.
A jury at St Albans Crown Court yesterday (Thursday) heard how on Saturday, December 1, last year, the 43-year-old organised a demonstration in South Oxhey. Along with several members of his British First Party, Quinn set up a stall in The Parade shopping precinct and proceeded to hand out leaflets while shouting his "manifesto" through a loudspeaker.
He shouted that Muslims were "bastards" and "terrorists", prosecutor Laura Blackman told the court. She said: "Talking about the Government he referred to Tony Blair as 'Tony Mohammed'. He said that Muslims were suicide bombers and should all be sent home. He referred to a case in which an English woman had been arrested in Sudan for naming a teddy bear Mohammed and said, 'we should be executing the f*****g bastards over here'. Witnesses reported hearing him shouting that Muslims were terrorists and Muslims were bastards."
Ms Blackman told Judge John Plumstead that Quinn, from Bedford, had several leaflets detailing his manifesto on him, as well as Nazi memorabilia and a picture of Adolf Hitler.