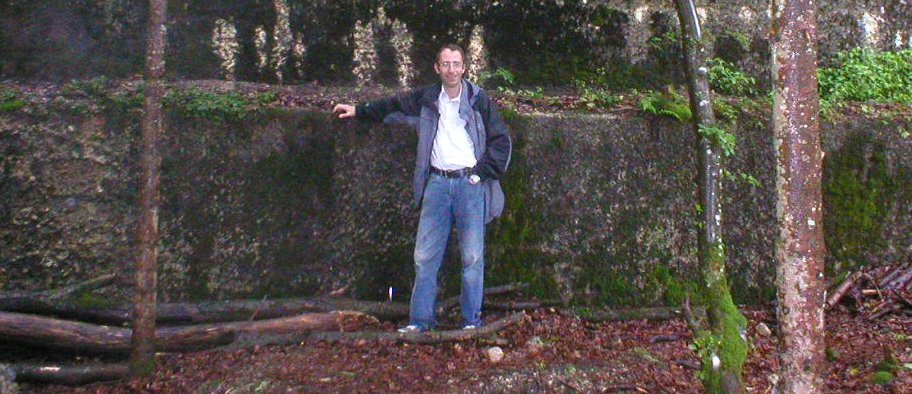 Ian Forman at Berchtesgaden in 2012 during a pilgrimage to Adolf Hitler's Berghof residence
A neo-Nazi who plotted to blow up Merseyside mosques was branded "evil" by a judge today.
Terror suspect Ian Forman, 42, from Birkenhead, planned to explode home-made devices packed with nails and ball-bearings. He downloaded pictures of two mosques near his home and labelled them "targets" before making a string of YouTube posts threatening to "blow them up".
He stockpiled potassium nitrate, sulphur and charcoal, and drew up a shopping list of bomb components after months of internet research. The Hitler obsessive then created spreadsheets for the prices of chemicals needed for homemade bombs, and where they would be stocked.
Forman, who frequently expressed his racist ideology and views against the disabled to friends and workmates, also posted on YouTube about "Mosques lighting up the sky to keep us warm in the winter".
A jury of seven men and five women at Kingston Crown Court today found Forman guilty of engaging in conduct in the preparation of terrorist acts.
Judge Paul Dodgson said: "The defendant had, in my judgement, very extreme and evil thoughts – I think the word evil is appropriate. As the jury found he at some points had the intention of carrying those evil thoughts out. For his sentencing there must be a message sent out by the court that this behaviour is regarded with extreme gravity. But, on the other hand, I must mitigate this by the acknowledgement that his intention wasn't carried out to effect."
Forman, of Shavington Avenue, Oxton, was first arrested last June on suspicion of possessing explosive devices. He was then rearrested on September 5 by officers from the North West Counter Terrorism Unit over concerns about chemical and explosive substances at his house.
Subsequent analysis of Forman's computer and 16 mobile phones revealed his research of mosques in his local area and saved photos of them. Forman labelled Penny Lane Mosque in Mossley Hill and the Wirral Islamic Centre, near his home in Birkenhead, as "target one" and "target two". Jurors heard Forman also made and tested improvised explosive devices, and ran tests on black powder.
Adjourning sentencing until the week commencing April 28, Judge Dodgson told Forman: "There will be a lengthy custodial sentence – of that there is no doubt. But I must make sure that I pitch that sentence so that it reflects your danger to the public, your hitherto good character, and that you did not in fact carry out these acts".
Forman had denied engaging in the conduct in the preparation of terrorist acts. Three counts of making explosives and a single count of possession of explosives were left on the court file. Forman will be sentenced at the same court in the week commencing April 28.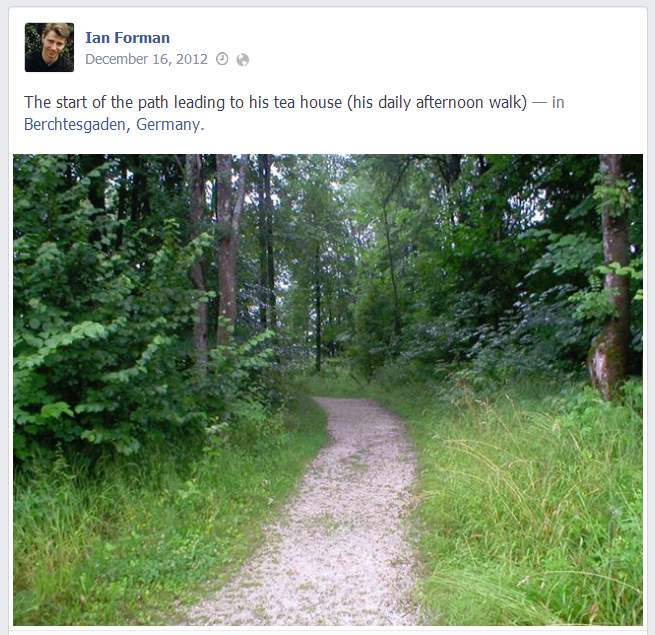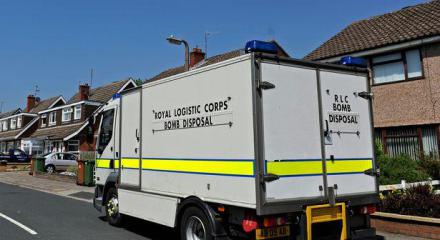 Bomb squad at Ian Forman's house in Oxton in July last year
Update:  The Daily Mail has further details on Forman. It reports:
"In a text message to a friend he said he was making an explosive with ball bearings and nails, and added: 'It might be destined for the Muslim centre in Birkenhead.' In another, he said Norwegian mass murderer Anders Breivik was his 'hero' and added: 'Time to start blowing them up.' He also made a racist video featuring pictures of people in Muslim dress and searched on YouTube for videos of 'killing Muslims'."
Update 2:  See "Merseyside mosque bomb plotter Ian Forman jailed", Islamophobia Watch, 1 May 2014