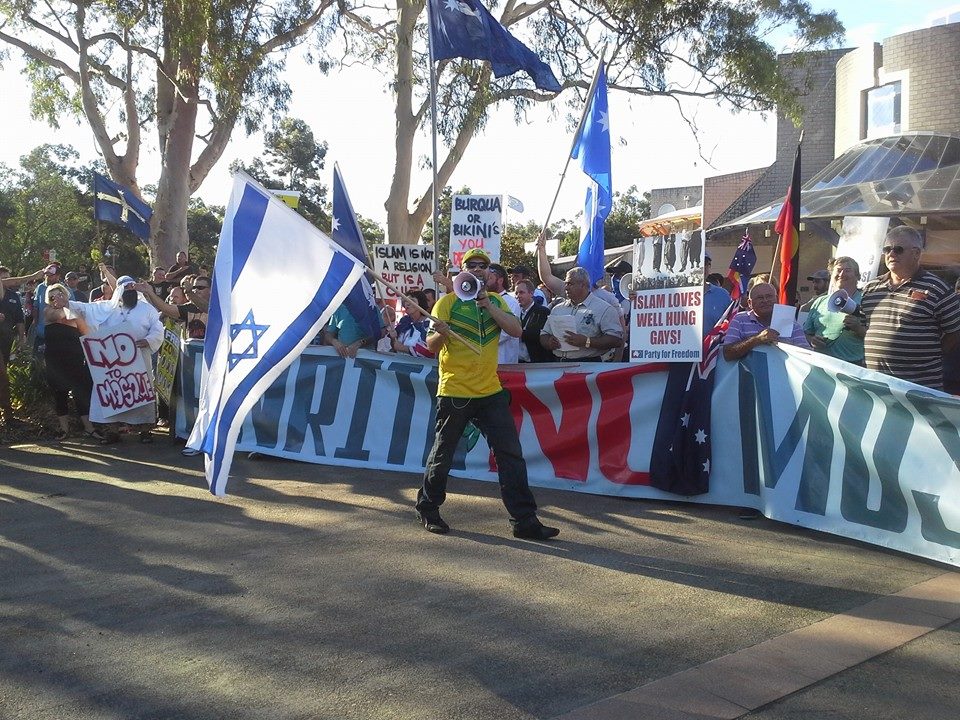 Islamophobes protest in Penrith against the community centre (photo: Black Flag – Western Sydney Peoples Collective)
Protestors have again failed to sway Penrith councillors from stopping plans for an Islamic community centre from going ahead.
A rescission motion was brought before Penrith Council on Monday night to reject the approval granted to an Islamic ­centre in Kemps Creek on November 24 but it was defeated 10 votes to four. Councillors Marcus ­Cornish, Kevin Crameri, Maurice Girotto and Mark Davies moved the motion in their latest attempts to block the development, citing concerns around traffic, sewerage and public opposition to the development.
All these concerns were addressed in the report tendered to council with the recommendation that the development application be approved subject to special conditions.
Prior to the meeting local residents protesting against the community centre had to be kept separated by a strong police presence from Antifa (an anti-fascist group) protesters. One man was ejected from the public gallery after refusing to apologise for shouting abuse at the Mayor Ross Fowler and repeated the abuse as he left the council chamber.
The rescission motion marks the second time that councillors Marcus Cornish and Maurice Girrotto have tried to have Islamic developments overturned in the Kemps Creek area.
During general business an urgent motion was moved requesting Cr Marcus Cornish to retract his statements and apologise to Liverpool Council and the residents of Liverpool over his previous assertions that Penrith's neighbour was beset with crime because of its high Islamic population.
Cr Cornish again refused to back away from his comments. "I hold to those comments and I represent the people of Penrith just as I always have," Cr Cornish said. "Given the track record at Liverpool Council with their economic and social situation they shouldn't be telling me what to do."
A later motion was moved for the Penrith mayor to write to Liverpool Council outlining that Cr Cornish's comments in no way reflect that of Penrith Council in general.
Cr Cornish has voted against both the recent Islamic developments believing that they are not wanted by the majority of the people in Penrith. In a statement published on the Stop the Mosque at Kemps Creek/Penrith Facebook page he said he has been inundated with emails and calls supporting his stand against the centre. "I will not change my views, I will continue to protect the Penrith way of life and to be a voice for the people of Penrith," he said.
The move to overturn the development comes despite the applicant explaining the whole community was welcome to use the facility.
Speaking to the Penrith Press after the DA was initially approved the applicant said they just wanted to look towards the future. "When the community centre is finished it will be open for all to use," ­Muhammadi Welfare ­Association secretary Abbas Raza Alvi said.
Penrith Press, 8 December 2014