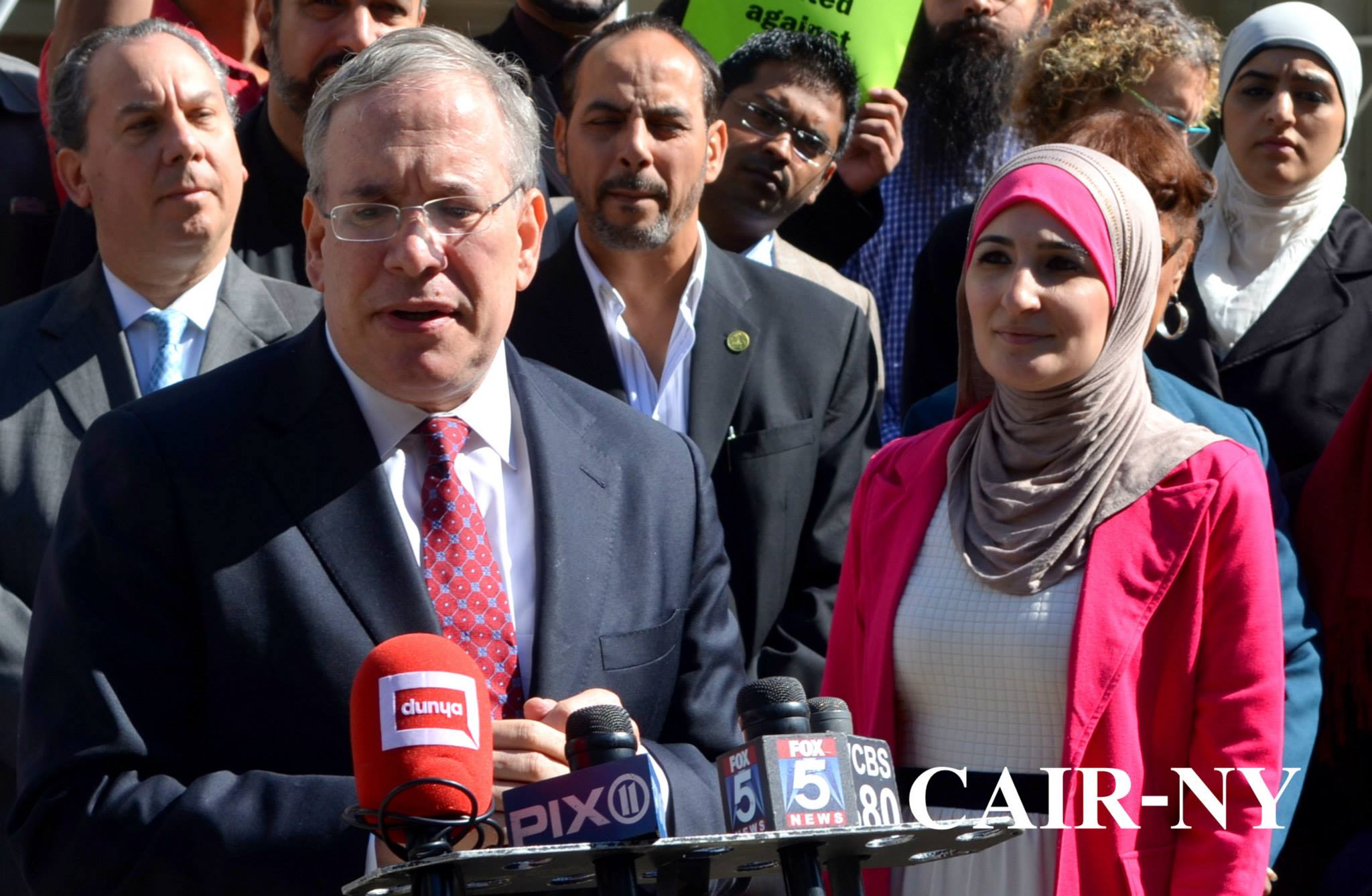 Elected officials, community groups and faith leaders – including Christian ministers, Jewish rabbis, and Muslim imams – gathered today at City Hall to denounce ads on MTA buses and subway stations that they say promote Islamophobia.
City Controller Scott Stringer, U.S. Rep. Hakeem Jeffries, Public Advocate Letitia James, City Council Speaker Melissa Mark-Viverito and over half a dozen Councilmembers all attended the rally to speak out against the ads, one of which features an image of journalist James Foley right before he was beheaded.
"I'm here today as a parent, as a Jew, as someone who believes very strongly in the diversity of our city," said Stringer. He said the world today was a "complicated place," and to combat that we can "reject hatred, reject these subway ads."
The ads are supposed to start going up today outside Columbus Circle and 59th Street/Lexington Ave stations. Next week they will go up on 100 buses.
The one that shows Foley also features a second image of his alleged executioner, a London-based Muslim, in western-style clothes under the words "Yesterday's moderate is today's headline." A second ad shows a pro-Nazi Muslim leader sitting with Adolf Hitler.
Pamela Geller, the controversial pro-Israel blogger whose group is bankrolling the $100,000 ad blitz, says they are an "education campaign" to wake New Yorkers up to the dangers of extremist groups like ISIS and Hamas.
But critics say they are unfair to law-abiding Muslims. "They are an attempt to slander all Muslims," said City Councilman Mark Levin, who is chair of the Council's Jewish caucus.
Linda Sarsour, the executive director of the Arab Association of New York, said the coalition of groups are planning an ad campaign to push back at the ads. "The ads equate Islam to horrific groups like ISIS," she said.
New York Daily News, 23 September 2014
More photos here.
See also "Letitia James creates task force to review hate crimes against Jewish and Muslim New Yorkers", New York Daily News, 23 September 2014
Update:  See "James Foley photo removed from anti-Islamic bus ads in New York", Reuters, 29 September 2014