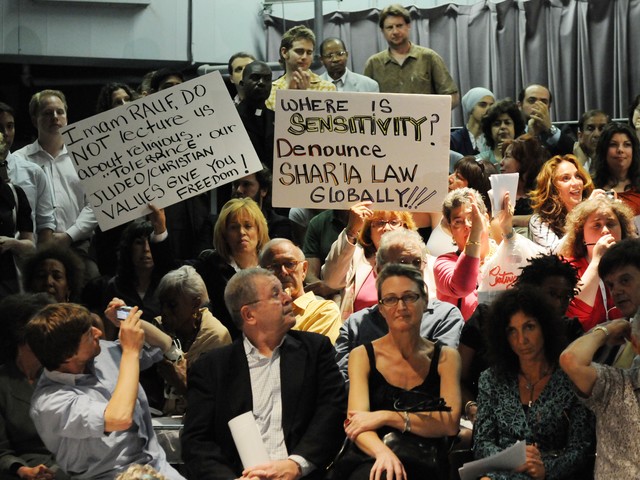 LOWER MANHATTAN — Community Board 1 approved a plan to build a mosque two blocks from the World Trade Center after a four-hour meeting that drew hundreds of people and emotions ranging from fear and hatred to grief and hope at a public forum in lower Manhattan Tuesday night.
"I'm so proud of the community board," said Imam Feisal AbdulRauf, shortly after the vote, which was 29 in favor, 1 against, with 9 abstentions. "They recognize us as neighbors."
The community board's vote is solely advisory, and the project could have gone forward regardless of the board's opinion.
Still, supporters and opponents of the plan packed into CB1's monthly meeting at 3-Legged Dog's theater Tuesday night. Both uniformed and undercover NYPD officers were present at the meeting to keep the crowd under control.
When Rauf stood to address the crowd, he was shouted down by people yelling, "Murderer!" Dr. Rudina Odeh-Ramadan, who was temporarily buried under rubble twice while she worked to rescue people on 9/11, was booed when she revealed that she was a Muslim.