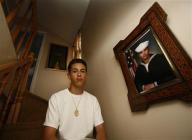 NEW YORK – After years of being taunted as "bin Laden" and "terrorist" at school, Osama Al-Najjar attempted suicide last July at the age of 15. Now 16, he is an extreme example of the difficulties facing some Arabs in New York, the city hit hardest by the attacks of September 11, 2001.
"They destroyed everything nice in our life with what they did to him," said Suad Abuhasna, Osama's mother, referring to racist abuse she said was heaped on her son while he was a student at Tottenville High School in Staten Island.
Leaders of the Muslim community – which numbers about 600,000 in New York City and is among the fastest growing groups in the city, according to a Columbia University study – say Osama's case highlights an increasing distrust and fear of Islam among Americans since 9/11.
"There's become this culture of Islamophobia in American society," said Arsalan Iftikhar, national legal director of the Council on American-Islamic Relations. "Unfortunately, kids are not immune."