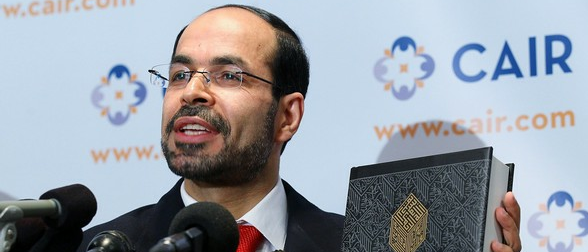 Nihad Awad, national executive director of the Council on American-Islamic Relations
A Queens man, awaiting trial for attempted murder at a mosque in 2012, was arrested on charges of threatening to kill leaders of a leading Muslim civil rights organization.
The FBI arrested Bernhard Laufer Saturday for allegedly sending death threat emails to the Council on American-Islamic Relations. In one email, he warned that he will "stop at nothing to kill you, your body guards, and anybody else that is around you," according to officials.
Laufer is expected to be arraigned in federal court in Brooklyn Monday afternoon. Laufer, 57, of Rego Park, in one email allegedly refers to himself as "that mad man."
His arrest by the FBI comes after police charged him in November 2012 for trying to stab a man at the Masjid Al-Saalliheen Mosque in Kew Gardens as he allegedly yelled "I will kill you Muslim." He pleaded not guilty and has been out on $200,000 bail awaiting trial on charges of attempted murder as a hate crime.
CAIR said some of Laufer's e-mail threats targeted its national executive director Nihad Awad. "This is yet another incident demonstrating the actual, imminent harm that can result from Islamaphobia," said CAIR spokesman Ibrahim Hooper.
Defense attorney Alexander E. Eisemann did not immediately return a call for comment. In another email, prosecutors said Laufer blamed CAIR for "trying to set me up" in the stabbing case and that "CAIR WILL NOW BE DESTROYED."
The FBI said some of the emails and phone threats were made after Laufer appeared in Queens criminal court June 10 for a hearing on the attempted murder charges.
See also "NY man arrested for threatening to kill head of Muslim civil rights group", CAIR press release, 16 June 2014
Update:  See "Suspect in mosque stabbing arrested again for emails threatening to kill and castrate director of Muslim group", Village Voice, 16 June 2014
Read the complaint against Bernhard Laufer here.