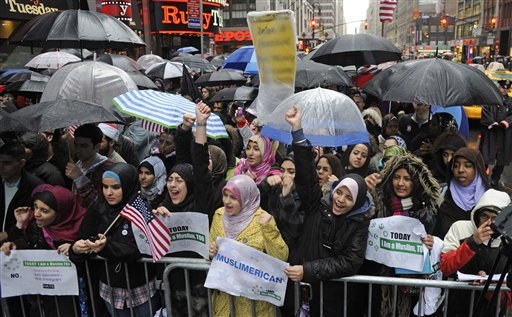 Proclaiming "Today I am a Muslim too," about 1,000 protesters gathered Sunday in Times Square to decry Rep. Pete King's upcoming hearings into homegrown radical Islam.
"Today, they're targeting Muslims. Tomorrow, it will be Jews. Tomorrow, they'll close a synagogue," said Abu Abdullah, 57, a perfumer from Bay Shore, L.I., who stood in the rain at the interfaith rally. "Peter King is trying to divide us – to make it like shark eat shark," he said of the Long Island Republican, who heads the House Homeland Security Committee. "It shouldn't be that way."
Christians, Jews and Muslims branded the hearings a witch hunt, waved signs and chanted, "Shame, shame Pete King!"
Celebrities from boxing legend Mike Tyson to reality show darling Kim Kardashian added their support online. "We are bigger than Charlie Sheen – we are the No. 1 trending topic on Twitter," hip-hop icon Russell Simmons told the rain-drenched crowd.
Magdy Salama, 50, a limo company owner from Astoria, Queens, who held a small American flag on a stick, said he worried his three Muslim kids will grow up facing religious bigotry. "We're a free country. There should be freedom of religion," Salama said.
New York Daily News, 7 March 2011
See also Associated Press, 6 March 2011
And "Congressman King defends himself against criticism over hearings on radical Islam", Washington Post, 7 March 2011