A tenant has today told of the moment more than 50 people – believed to include ex-British National Party leader Nick Griffin – stood outside his home calling for his landlord to appear.
Latvian Janis Rozite, 22, said he was sat at home in Bloomfield Road on Saturday when the crowd appeared outside his property. They demanded to speak to the landlord who was one of the two men cleared several years ago of being involved in the disappearance of Charlene Downes.
Saturday marked the 11th anniversary of when the Blackpool schoolgirl went missing. Dozens of people were stood outside the Bloomfield Road property.
Hotel worker Mr Rozite told The Gazette: "I had a knock on my door around 12.30pm. I could hear shouting – I thought, 'what the hell is happening?' One of them shouted with a megaphone. They said where is your landlord? I said 'please leave.'
"I called my landlord and he urged me to phone the police and when they arrived the crowd moved over to the other side of the road near Blackpool FC's stadium."
Mr Rozite said the crowd, which was seen by many Blackpool fans turning up for Saturday's game against Ipswich, were carrying banners and shouting abuse. It is believed they remained for around 30 minutes before leaving.
In a tweet on Saturday, Mr Griffin, who was removed as head of the BNP earlier this year, confirmed he had been in the resort. Posting on Twitter he said: "Charlene Downes day of action in #Blackpool. Multiple demos. Good day so far." Several people took to social networks to confirm they had scene Mr Griffin in Blackpool.
Mr Rozite's neighbour Mark Millard, 21, said members of the BNP had visited the street before. He added: "There were people with banners – they were shouting about Sharia law. We ended up having police outside the front of the house. We just thought it was farcical to be honest."
Blackpool Gazette, 3 November 2014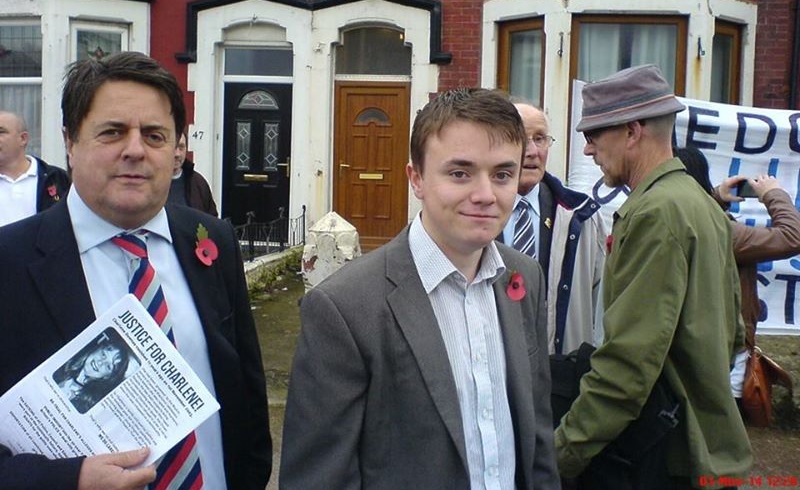 Nick Griffin at Blackpool protest with former BNP Youth leader Jack Renshaw