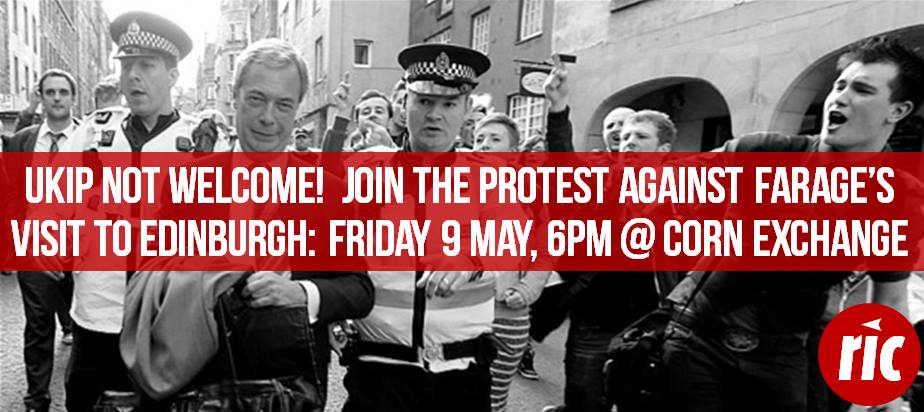 Protesters have announced plans to picket Ukip leader's Nigel Farage upcoming visit to the Capital – after causing him to barricade himself in a pub the last time.
The controversial politician is billed to attend a Ukip rally at the Corn Exchange on 
Friday. Demonstrators have made clear their intention to attend and disrupt the event as best they can.
The last time Farage made an appearance north of the Border he was forced to lock himself in the Canons' Gait pub on the Royal Mile as a crowd of around 50 protestors swarmed around him chanting "Go home to England" and "Racist Nazi scum".
Ukip are currently riding high in the polls ahead of the European Parliament elections, and it is understood that this will be his sole Scottish appearance before the May 22 vote.
Andrew Ashe, 22, of the Radical Independence Campaign, who was on last year's Farage protest, said: "There are a lot of people up and down the country who are angry about what Ukip are doing and the coverage they're getting in the media, and who want to oppose this. We've shown before in Edinburgh that Ukip and their message are not welcome. This will be a big and lively protest and we call on all the groups that oppose Ukip to come along."
This message was echoed by fellow Radical Independence campaigner Liam O'Hare, who said: "This Friday's event will be a more sizeable demo. Last year was pretty much an ambush, but this time there will be a clearer message and more supporters."
A Facebook group has also been set up entitled Ukip Not Welcome! Oppose Farage in Edinburgh and bears the slogan: "Let's show him that Scotland rejects their racist politics of hatred and division. Immigrants are welcome here – UKIP aren't!" So far more than 200 people have confirmed their attendance at the demonstration.
In an email to party members last week, Ukip's Scottish chairman, Arthur Misty Thackeray, said of Friday's event: "Security considerations are paramount and as such attendance will be strictly limited to our members and selected guests. We will not be advising the venue location until nearer the time. Door security will be in operation."
Friday's event also includes speeches from Thackeray and the party's lead Scottish MEP candidate David Coburn, plus a question-and-answer session. Busloads of Ukip supporters are expected from Glasgow, Perth, Dundee, Fife, Inverness, Aberdeen and the Scottish Borders.
Following last year's protest, Farage said: "We have never had a reception like this anywhere in Britain before. Clearly, it's anti-British and anti-English. They hate the Union Jack." The following day he labelled the protesters "yobbo fascist scum" and said they were "filled with a total and utter hatred of the English".