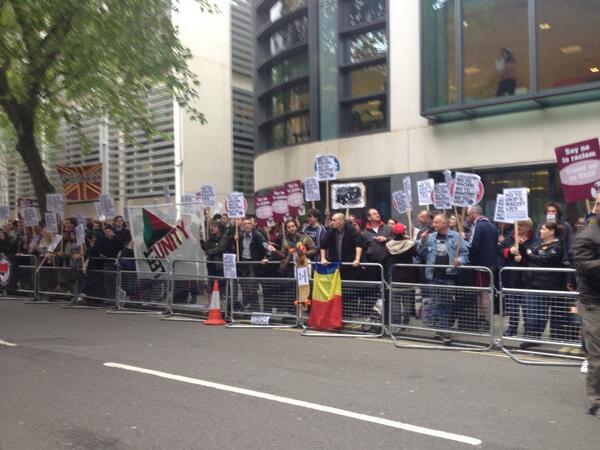 The UK Independence Party "is not racist", leader Nigel Farage has told activists in central London.
Mr Farage said a "handful" of its thousands of candidates had said "stupid or offensive" things, but "they never have, and they never will", represent the views of the party.
He was speaking at an event designed to highlight UKIP's female, black and ethnic-minority candidates. The rally was disrupted several times by protesters accusing UKIP of racism.
One UKIP candidate was suspended from the party on Saturday after describing Islam as "evil", and another resigned last week after after tweeting that comedian Lenny Henry should emigrate to a "black country".
But Mr Farage said the party had "professionalised" in recent years, and now had a membership form that urged people whose views were incompatible with UKIP's not to join the party. Despite these measures, he continued: "There will always be in any system a few people that creep over the line and cause us embarrassment."
There were just 10 people out of the party's 2,234 candidates who had "said things that are either stupid, or offensive", he continued. "I would rather that it hadn't happened."
But he accused "huge sections of the British media, defending their friends in the so-called main parties – or as we prefer to call them the legacy parties" of over-publicising the "offensive, idiotic statements made by this handful of people". They "have been lifted up and presented to the Great British public as if they represent the view of this party, which they do not," he said. "They never have, and they never will."
The UKIP leader concluded: "I don't care I you disagree with us, I don't care if you think we're better off being governed by Cameron, Clegg or Miliband, I don't care if you think uncontrolled immigration is good for Britain, I don't care if you criticise us for wanting to be a free independent country, and not under that flag, anthem and preposterous president whose name no-one knows.
"I don't care what you call us. You can call us right-wing, left-wing, you can call us small minded – I don't care what you call us. But from this moment on please do not ever call us a racist party. We are not a racist party."
Before Mr Farage delivered his speech, protesters had gathered outside the venue chanting: "UKIP – no way. Immigrants – here to stay," and holding placards that read: "No to UKIP's racist lies." A number gained access to the venue ahead of the event and heckled the candidates who spoke ahead of Mr Farage, some accusing them of racism.
One candidate, Paula McQueen, said: "There I see some spoilt middle-class children who have nothing better to do. "How dare they call us racist when being a black Jew, and being 60 years of age, I know what racism is?" Mr Farage, whose speech went uninterrupted, said the protesters were from the "extreme left" and had been motivated by "hatred".
---
Cf. Mehdi Hasan, "The great Ukip racism debate – debunking the six main myths", Huffington Post, 6 May 2014