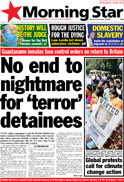 No end to nightmare for 'terror' detainees
By Tom Mellen
Morning Star, 10 December 2007
CIVIL rights campaigners and the British Muslim Initiative slammed the Home Office on Sunday after reports that three innocent British residents who have languished in Guantanamo Bay for five years may be hit with control orders when they return.
The Home Office has confirmed that it may impose the repressive orders on Jamil el-Banna, Omar Deghayes and Abdenour Samuer, who are expected to be home by the end of the year.
It has also been reported that MI5 will spy on them as part of a deal negotiated with the US.
Lawyer Clive Stafford Smith, who represents the detainees, said: "I am sure they will be briefly questioned on arrival but equally sure they will be released. There is no reason to detain them."
Human rights group Liberty director Shami Chakrabarti deplored the fact that former Guantanamo detainees returned to Britain had been held in Paddington Green high-security prison in London.
She insisted that "these people should be treated as kidnap victims, given trauma counselling and helped with resettlement."
"They have been held for years. If you can't come up with anything to charge them with by now, the basis for making a control order is poor, to say the least."
Another detainee with links to this country, Shaker Abdur-Raheem Aamer, will apparently be sent back to his native Saudi Arabia, where human rights organisation Amnesty believes that he may face immediate arrest.
A fifth man, Ethiopian Binyam Mohammed al-Habashi, will remain at the infamous camp.
Washington is determined that he should face one of Guantanamo's notorious military commissions after he reportedly incriminated himself while a razorblade was taken to his penis at a "black site" in Morocco.
Mr Stafford Smith said: "Naturally, as any human being would do, he made statements saying whatever they wanted to hear.
"I've seen no evidence in Binyam's case that isn't evidence that was tortured out of him."
Negotiations have been taking place since the government asked for all the men to be freed over the summer, having previously refused to intervene.
British Muslim Initiative spokesman Anas al-Tikriti contrasted the government's "dithering" over the men to its determination to win the release of five Britons who have been held hostage in Iraq since May.
Prime Minister Gordon Brown has demanded the immediate release of the five hostages, vowing that ministers will do "everything in our power" to secure their freedom.
Four of the hostages were working for Canadian firm GardaWorld as bodyguards for the fifth man, a computer consultant employed by US management consultancy BearingPoint.
Mr al-Tikriti said: "These five men being held hostage in Iraq are professionals who volunteered to put themselves in harm's way, who signed contracts which spelled out the inevitable risks involved.
"The government treats their detention as a matter of paramount importance, as it should, while treating British residents who have been locked up in Guantanamo Bay without charge as a marginal issue requiring little attention."
Liberal Democrat MP Sarah Teather, who has campaigned for years for her constituent Mr Banna to be released from Guantanamo Bay, said: "If these reports of their release are true, it will be wonderful news for Jamil's family, who are desperately hoping and praying that he will be back with them by Eid festival."
But she expressed "great concern" that Mr Abdur-Raheem Aamer may be sent to Saudi Arabia and not returned to his British children in London, adding: "I also hope that the government will continue to negotiate for the release of Binyam Mohammed."