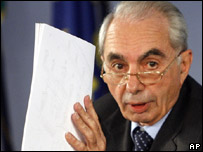 ROME: Italy's interior minister said the threat of terrorism remains a reality in Italy, and vowed to take a close look at who is financing Italy's many mosques and who is teaching at Islamic schools.
Giuliano Amato proposed following France's example of creating a foundation to manage money destined for religious groups, in remarks published Friday in Italy's leading dailies and confirmed by his office.
"The spread of mosques in Italy that are built with money from foreign states is unacceptable," Amato told Italian reporters. "There's something about that that I don't like. I want to know who is financing what in my country."
Last year, France created a new foundation to handle financing for France's Muslim community, for building and renovating mosques and other projects. The foundation has representatives on the board and allows France's government to play a role in the issue, without breaking its 1905 rule that forbids the government from financing religions.
"The idea is to at least have foundations so we can have some transparency," said Amato's spokesman, Fabrizio Forquet. In Italy "mosques are set up by whomever and are financed by such foreign countries as Saudi Arabia," Forquet added. "So what are these mosques? Are they a religious site or centers for propaganda?"
Hamza Roberto Piccardo, secretary of the Union of Islamic Communities in Italy, an umbrella group for Italy's Muslims that has a reputation for radicalism, dismissed the idea.
"Free church in a free country, that's all I'm going to say," Piccardo said. "The constitution says religious communities set themselves up according to their own statutes, and a secular state only needs to worry that everything is done legally."
Associated Press, 5 January 2007
See also "Italy to monitor mosque funding", BBC News, 5 January 2007