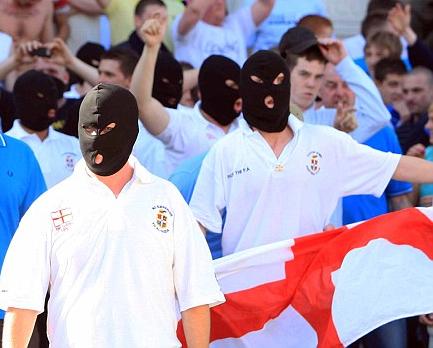 Nine people have been arrested after hundreds of anti-Islamist protesters clashed with police yesterday. The streets of Luton descended into violence after demonstrators, many hiding their faces behind balaclavas, brandished England flags and chanted at officers.
A group called March for England was said to have organised the rally as a peaceful protest against Muslim extremists. They were joined by a local group United People of Luton.
The mob, which included teenagers and women, held banners with slogans such as "No Sharia Law in the UK" and "Respect our Troops". Some protesters wore masks with the horned face of Sayful Islam, a hardline Muslim activist in Luton who took part in an anti-war rally in March, which disrupted a homecoming parade for troops.
But chaos broke out when a crowd of around 500 ran away from police who had been escorting the protest along its route, and ran down side streets towards the town centre. Officers on horseback and police dogs were deployed, and policemen drew batons to defend themselves.
Groups of young men in balaclavas and England shirts chanted outside the city centre and one balacava-clad protester held a Rottweiler on a chain, while others clashed with police in riot gear. One Asian man was hit across the face with a banner and left with a bloody nose.
Police said during the disturbance three car windscreens were smashed and a window at a take away restaurant in Chapel Street had been broken. Last night Luton town centre was calm as police maintained a presence on the streets.
A spokesman for United People of Luton, Wayne King, said many people in Luton were concerned and annoyed that the Muslim community in the town had not taken steps to deal with Sayful Islam's "hate-filled preachings". The 24-year-old, who wore a T-shirt with the words "No surrender to Al-Qaeda" on it, said:
"We decided enough was enough after the soldiers got heckled as they marched through the town centre by the Muslim extremists. Our community has been racially attacked for the last 10 years. A mosque in the town got set on fire a few weeks ago and it made national news but churches in Luton are regularly being set fire to."
---
For the background, see Bartholomew's Notes on Religion, 25 May 2009
For an eyewitness account, see Three Counties Unity, 25 May 2009
Also http://www.reconciliationtalk.com/
Meanwhile, over at his Lionheart blog, Paul Ray endorses the rioting. In reply to a comment objecting to "headlines of masked men and violence", Ray demands:
"What are you doing about the Islamification of Great Britain? Islam has taken over Luton, and the police and council have done nothing but sit back and allow it to happen. This is the culmination of the past 25-30 years. The people of Luton have now arisen to reclaim their community!!! How do you expect them to do it? …
"No one thinks that removing the militant wing of Islam from our land is going to be easy, and if the government will not do it then the people will, and they will quite obviously be wearing balaclavas to do that, because the government will come down on them for defending their community…. So decide where you stand and who you stand with."
No doubt Luton Council will bear this in mind next time Ray applies for permission to hold a demonstration in the town.
Update:  Read Unite Against Fascism statement on the Luton riot here.
Further update:  Bartholomew's Notes on Religion points out that the photograph in the Mail report, captioned "Catalyst: Anti-war Islamists protested during an Army march in Luton earlier this year – partly sparking yesterday's response", is not of the notorious Al Muhajiroun protest but of a different event entirely.