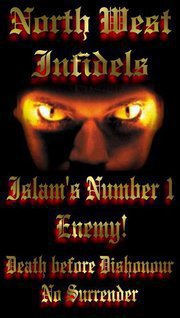 Right-wing extremists have threatened to tear their opponents "limb from limb" during protests due to be held in the Capital on Saturday.
The online threat was made by a member of an English group called North West Infidels, whose members are expected to travel to the Capital on Saturday to take part in a rally organised by the Scottish Defence League.
The NWI's opponents say they are even more radical than the Scottish or English Defence Leagues. On a Facebook page set up by NWI members, a threat has been posted referring to a "coalition" of three groups – themselves, a similar group known as the North East Infidels, and the SDL.
It reads: "With only three days left we are issuing a challenge to any Red scum that are planning to oppose us. The NWI-NEW-Sdl coalition thrive on kicking the s*** out of c**** like you so the more of you that turn out in Edinburgh the better, that's more of your scruffy little bodies to go round for us to systematically tear limb from limb. See you Saturday."