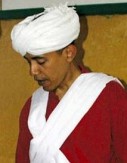 Barack Obama's campaign team accused Hillary Clinton's beleaguered staff yesterday of mounting a dirty tricks operation by circulating a picture of him in African dress, feeding into false claims on US websites that he is a Muslim.
David Plouffe, Obama's campaign manager, described it as "the most shameful, offensive fear-mongering we've seen from either party in this election". Obama has spent much of the campaign emphasising he is a Christian not a Muslim and did not study at a madrasa.
The picture showing Obama in a turban during a visit to Kenya in 2006 first appeared on the Drudge Report website yesterday. The site said it was circulated by Clinton's staffers. The picture was taken when Obama went on a visit to Africa as a senator. Obama, whose father was Kenyan, visited Wajir in Kenya's north-east, close to the Somali and Ethiopian borders, and was dressed by locals as a Somali elder.
Tells you something about the current atmosphere in the US that claiming a politician is a Muslim can be characterised as "shameful, offensive fear-mongering".