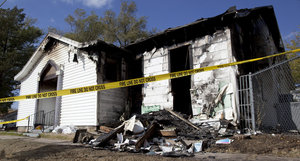 When the Rev. Jackie Carter learned of the fire that heavily damaged a mosque in west Wichita early Monday morning, she knew what she needed to do.
"They are welcome to use the worship space at our building," said Carter, pastor of First Metropolitan Community Church at 156 S. Kansas. "We believe it's important for everyone to have sacred space, and now they don't."
It's just one of numerous offers of assistance for the mosque and those who pray there, said Hussam Madi, a spokesman for the Islamic Society of Wichita. The society posted a letter of appreciation on its website today.
"On behalf of the Islamic Society of Wichita, we would like to thank the Wichita community for the outpouring of support we continue to receive in response to the fire at the Westside Islamic Center," Jenaya McHenry, office manager for the Islamic Society of Wichita, stated in the letter.
"We have received numerous phone calls and e-mails from individuals and churches offering kind words, support, services and space to aid the Muslim community in Wichita. We are truly grateful to be part of such a giving community and for each and every person who has reached out to us."
The cause of the fire at the mosque at 3406 W. Taft, southeast of Maple and West streets, remains under investigation.
"There are plans to rebuild," Madi said. "It's going to require some fundraisers." Preliminary cost estimates are in the $120,000 range, he said. People wishing to send financial donations for the mosque can send them to the Islamic Society of Wichita, 6655 E. 34th St. North, 67226.
"We deeply appreciate the help and the offers from other peoples of faith in our city," Madi said. "That makes us feel that we are a part of this community, which we work hard to be a part of."
Wichita Eagle, 3 November 2011
See also "Respect, protect rights", Wichita Eagle, 3 November 2011