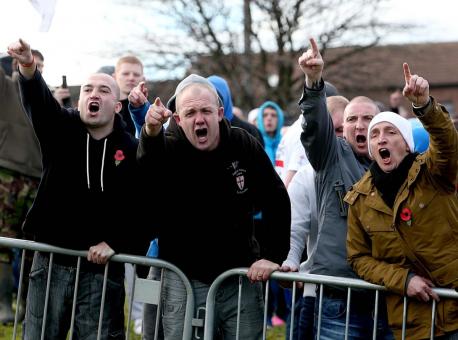 Police made one arrest this afternoon during a demonstration by the English Defence League (EDL) in Shotton Colliery, County Durham.
There was also a counter protest by the Tyne and Wear Anti-Fascist Association.
A spokeswoman for Durham Police said that some 200 people were involved in the demonstration, which took place in the centre of the village between 1.30 and 2.30pm this afternoon.
Only one arrest was made – for a public order offence – but that was away from the protest area.
The EDL were protesting at plans to open a multi-faith education centre in the former pit village, near Peterlee. Children as young as three joined adult members of the far right group, some of whom had travelled from across the country, to march through the village.
Up to 150 officers from across the force area, together with members of Peterlee Neighbourhood Policing Team, were involved in policing the event.
Northern Echo, 9 November 2013