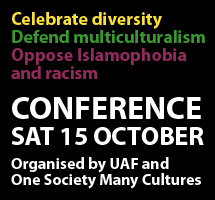 A huge range of speakers, including MPs, campaigners, writers and musicians is lined up for the one-day conference on defending multiculturalism on 15 October.
The event, titled Celebrate diversity, defend multiculturalism, oppose Islamophobia and racism, is organised by UAF and One Society Many Cultures and sponsored by SERTUC.
It is backed by the NUT, Unite, CWU, UCU and PCS trade unions, the Muslim Council of Britain and the NUS Black Students Campaign.
Speakers announced for the conference include Frances O'Grady TUC deputy general secretary, Kevin Courtney deputy general secretary NUT, Jack Dromey MP, Helen Goodman MP, Peter Hain MP,Claude Moraes MEP, Jean Lambert MEP, Farooq Murad secretary general, Muslim Council of Britain, Edie Friedman executive director, Jewish Council for Racial Equality, Michelle Stanistreet general secretary NUJ, Hugh Lanning deputy general secretary PCS, Steve Hart political director Unite, Megan Dobney regional secretary SERTUC, Zita Holbourne PCS NEC, Bob Lambert co-director European Muslim Research Centre, Jody McIntyre journalist, Peter Oborne journalist, Dilowar Khan director, London Muslim Centre, Alaa' Samarrai vice-president student affairs, Federation of Student Islamic Societies, Kanja Sesay NUS black students' officer, Nitin Sawney musician, Sabby Dhalu secretary One Society Many Cultures, Denis Fernando Lesbian and Gay Coalition Against Racism, Weyman Bennett joint secretary UAF, Martin Smith national co-ordinator, Love Music Hate Racism.
>> Go here to download the conference flyer
>> Read more about the conference
The event takes place at the TUC conference centre, Great Russell Street, London WC1B 3LS from 9.30am to 5pm on Saturday 15 October.
Why we are backing the conference
Billy Hayes General Secretary, Communication Workers Union
Britain's diversity offers many social, cultural and economic benefits. We must assert that we are one society with many cultures. This important event will be an opportunity to unite trade unions, faith and other communities to celebrate our multicultural heritage and oppose racism, Islamophobia and hatred.
Edie Friedman Executive Director, Jewish Council for Racial Equality
Britain has a proud tradition of being a haven for those fleeing persecution, tyranny and fear. We must protect that right to refuge. This timely event will celebrate the positive contribution we all make to society.
Farooq Murad Secretary General, Muslim Council of Britain
Sadly, Islamophobia is an undeniable reality in our society. It is culminating in Mosques being attacked, Muslims being vilified in the media, hatred and violence being encouraged. We are committed to fight this by working with people from all walks of life. We need to celebrate diversity and promote understanding to create a just and cohesive Britain.
Michael Rosen poet and playwright
The far-right think that they can rustle up enough bullies and thugs to threaten the peace and security of Muslims. We can't rely on the government doing anything about this. In fact, we've come to expect the opposite: they either keep suspiciously silent, or even worse: deliver speeches full of aggressive and prejudiced talk towards Muslim people. We need trade unionists and activists to come together to keep our streets and lives free of this danger so I welcome this conference on October 15.
Professor Danny Dorling University of Sheffield
When governments run out of good arguments to explain why their policies are hurting people they look for scapegoats. Suggesting that multiculturalism is a problem is just one way of trying to hide the fact that the rich are getting richer whilst most peoples' living standards are falling.