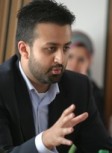 "At the Scotland United Against Terror rally I was heckled by someone in the crowd.
"Nothing new in that, happens quite a bit, par for the course. Caught a glimpse of the bloke near the front, just looked like the normal vagrant, possibly drunk, but definitely looking a complete state. He disappeared shortly after – possibly he'd been taken away by the police. He'd actually been pulled up by one of the other attendees to whom he retorted he was an academic and therefore was under the impression that he was above everyone else and allowed to act like a berk. Then he was pulled up by another academic who was on hand.
"I've just been told that the vagrant in question, was actually Tom Gallagher."
Osama Saeed replies to articles by Gallagher in the Spectator and the Herald and to Brian Monteith's piece in the Edinburgh Evening News.